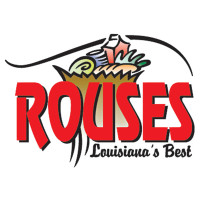 Rouses is a Southern U.S. based supermarket chain operating in nearly fifty locations across three states. Founded in 1960, the market has expanded its business to include on-location smokehouses, sausage kitchens, and seafood boiling rooms to ensure the freshest products.  Everyday, the company demonstrates a commitment to tradition, community, and health.
Supporting local businesses is a top priority for Rouses. The supermarket is fueled by locally bought produce, farm raised meats, and freshly caught fish. The deep family values and dedication to hometown cultures the market was founded on result in boosting the present day economy of the surrounding community. As well as contributing to local economic growth, buying local gives employees and customers the comfort in knowing exactly where their food comes from- from farm to table.
Commitment to community goes beyond with whom Rouses does their business, but is also prevalent in how they spend their free time. As a business built around feeding their neighbors, they spread their mission to the less fortunate by donating funds and efforts to Feeding America, benefitting the hungry citizens of Louisiana, Mississippi, and Alabama.
The market goes lengths to provide a quality customer experience. When shopping, a buyer will find more than just groceries. For the host preparing to entertain, in-house chefs prepare a large selection of ready-made foods, flower arrangements and gifts can be ordered, and party trays can be picked up year round at the Southern market. The company's corresponding website also offers a full index of free recipes for their customers to try at home, bringing the Rouses traditions to your home.
Rouses Interview Questions
What was the best experience that you have had in your job? Mention how it involved helping a co-worker out or helping your boss by staying behind to help on a difficult project. Make sure to mention any experiences that dealt directly with the company and how it benefitted from it in the long run.
What made you decide to leave your previous job? Whether you resigned or were fired, make sure to shed a positive light on the experience. Don't place the blame on a co-worker and much less your boss. He or she might speculate if that is how you talk about all of your bosses. Instead say how you wanted a change of scenery or more or fewer hours.
How would you describe your work ethic? Anything that would benefit the company in a positive way is a good ethic. Make sure that your interviewer understands that you will make sure that your work ethic will depend on the necessities of the company that you are working for and give your reasons and explanation.
What is your pet peeves when it comes to your fellow co-workers? Do not start mentioning specific problems, and especially any names. Your interviewer does not want to hear about any spats you may have had in the past. Instead, mention how you love to work with people, and if a negative situation should arise, how you would resolve it peacefully.
What can you tell me about my company? This question will come up, which is why good, effective research is important for any interview. Highlight any successes that the company has had in previous years. Mention any goals that the company has listed and maybe even offer how your knowledge or expertise can help in reaching those goals.
Company Links
https://employee.rouses.com/empapp/