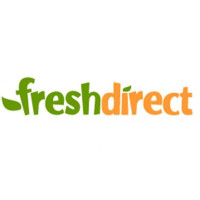 Fresh Direct is an online grocery retailer. Via their website, the company offers meat, produce, spirits, wine, dairy, frozen goods, pre-prepared entertainment trays, floral arrangements, and more to their customers. Customers browse the selection of provisions, place an order online, and Fresh Direct delivers it directly to their door. The company began servicing few, select regions in 1999 and has continuously expanded to reach new nearby areas throughout the east coast over the years following.
The new age grocer sources their produce directly from farms, ensuring their shoppers get quality ingredients, proudly sourcing meats from farmers who raise their breed pigs humanely, for example. The company looks to sustain lasting relationships with their food providers and build a strong network of valued farmers and artisans, supporting other local businesses and the economy in the process.
Fresh Direct aims to make each component of their business environmentally progressive. Along with their conscious sourcing methods, the company is also focused on transitioning all of their delivery vehicles to electrics. The packaging that is delivered to customers is also made from recycled materials. The boxes, manufactured in compliance with the Sustainable Forestry Initiative, are made from 85% recycled materials, the egg cartons are made from 100% recyclables, and their freezer bags are made from 30% recycled resin, to name a few.
Fresh Direct mas made progressive choices in the product it serves and the way they serve it, but they also contribute to the people they serve- and those they cannot. The online supermarket donates excess food to City Harvest, which serves people in New York facing hunger.
FreshDirect Interview Questions
Have you been applying for positions with other companies? Your first instinct here is probably to answer quickly and reassure the company that they are more important than any other job you may be looking for, but it's actually very important to let the company know that you are determined to find work whether this employer hires you or not. Explain that yes, you are applying for other jobs, and you are eager to accept whatever opportunity you can find to be successful. Let them know that while you hope that this employer provides a path to that opportunity, you also have your own goals and can be active and productive when not currently employed. Of course, if this is the only job you're applying for, be sure to let them know, honestly, why you're only seeking employment from them.
Is there any possibility that you feel overqualified for this job? It's important to express that you feel you can learn something valuable from any position you receive. This question is asking if you think you are too good to be working for the company. Even if you do feel that this is the case, it is important to show the employer that you can be humble and maintain a positive energy in the workplace.
What is your strongest quality? Answer however you'd like with this one. Be honest and let the employer know what you like best about yourself, and how this trait has lead you to be successful with previous projects, assignments, and/or employments. Only list one trait here, though, or you may appear overconfident, and unable to learn from mistakes.
Is there a different position, besides the one you are applying for, that may better match your skills? This is a good opportunity to express any doubts you might have for the job, while portraying your qualities in a positive, useful light. If there is another job you may be better suited for, mention it, and explain why that may be the case, but also explain why you are seeking this particular position, and why you would be willing to work hard to keep this job.
Company Links
https://jobs.jobvite.com/careers/fresh-direct/jobs