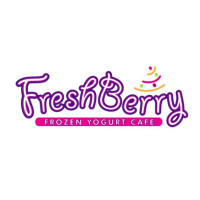 FreshBerry Frozen Yogurt cafes are located not only in the United States but also across the world.  To find out what career paths are available and to see how to apply for FreshBerry Yogurt online, follow the link below or use the information at the bottom of the page to start your FreshBerry Yogurt application.
The company came together in 2006 originally when Camille's Sidewalk Cafe chain, run by David and Camille Rutkauskas, began selling frozen desserts on the advice of Carolyn Archer.  In addition to the locations in California, Florida, North Carolina, Nevada, Oklahoma and Texas, there are also international cafes in Saudi Arabia and Venezuela.
There are many flavors available in the stores including FreshBerry Tart, Decadent Dark Chocolate, Vanilla No Sugar Added, Acai Berry, Classic Strawberry, Mango and Pomegranate.  But in addition to the frozen yogurt with toppings you can also get smoothies in all of the available flavors as well as fresh pops.
The cafes are mainly franchised locations and there are always new cafes opening across the country.  You can follow the news stories section on their website to see where new locations are opening and keep you eye out for which new stores are hiring.  You can also find news stories with updates about what's going on at the company.
FreshBerry Yogurt Careers
FreshBerry Yogurt jobs provide many job opportunities for those wanting to start off their careers in the food service industry.  There are vacancies for Team Members, Servers and Cashiers at the entry-level.  For those with more leadership experience there are positions open for Shift Supervisors, Assistant Managers and General Managers.
Occasionally there will also be FreshBerry Yogurt jobs available in the corporate side of the business.  There are fewer jobs available as the locations are mainly franchises but there are opportunities available in Franchise Support.  You can also send in applications for jobs in Administration, Accounting, Finance, Sales and Marketing amongst others.
How old do you have to be to work at FreshBerry Yogurt?  You need to be at least 16 years old or over to apply for jobs at FreshBerry Yogurt.
The benefits of FreshBerry Yogurt careers will vary depending on the location of the store that you are working at as each franchise location will be run by different management.  Typical benefits for full-time employees will include healthcare packages and retirement plans.  You may also be entitled to discounts on the delicious food available at the restaurants.
The stores opening hours vary depending on location so you will need to check your specific job description for working hours.  They are generally open from 7am until 8pm daily.
Job Descriptions & Salaries
Team Member – The responsibilities of a Team Member include delivering high quality customer service when you take their orders and putting orders together according to the menu.  You will also help to maintain the appearance of the restaurants and keep them clean and tidy.  The pay for this job is typically $8-9/hour.
Cashier – The job description of a Cashier is pretty standard across the industry.  You will process transactions for customers when they come in to the store.  Cashiering is usually an entry-level role but you will need to be good at communicating with different types of people.  The pay is usually between $8-9/hour.
Assistant Manager – Assistant Managers have a number of duties above and beyond that of the ordinary Team Members.  Your responsibilities will include dealing with customer questions and complaints as well as be responsible for training other staff members.  You will also be expected to learn the administrative side of the role.  The salary range is between $11-12/hour.
General Manager – As a General Manager you will have oversight over everything that goes on in the cafe.  You will need to manage the sales targets of the cafe and monitor its performance.  You will be expected to be able to multitask to ensure all aspects of the restaurant are working well.  The average salary for this position is $39k/year.
FreshBerry Yogurt Interview Questions
After you've submitted your FreshBerry Yogurt application, practice some typical questions to help yourself out in the interview.
Why do you want to work here?   Tell the hiring manager something specific about the company that attracts you to it.  It can help to do some research on the company before you get to your interview. 
Tell me about yourself.  Don't get too carried away giving your life story.  Stick to employment experience or relevant skills that you have that have prepared you for the role you're applying for. 
How do you cope with fast-paced working environments?  Multitasking and being quick on your feet are very important to working in the food service industry as you may have to deal with multiple customers at once.
How would you handle a customer complaint?  You will occasionally need to deal with an upset customer and it is important that you are able to do this in a calm and professional manner while sticking to company policy.
Can you handle being on your feet for long periods of time?  Working in this type of role you will usually need to be standing up for most of your shift and so it is important that you can work like this.
Advice For Application Process
By searching for FreshBerry Yogurt jobs online you can find their website, but the best way to apply is not to submit a FreshBerry Yogurt job application online as each franchise hires differently.  They don't have an online application form or a way to upload your resume.  For corporate roles you may be able to apply online by contacting their headquarters.
If you are interested in working in the stores you can make a direct application to your local store by heading down there in person and talking to the manager.  You can request a free application form from the manager or simply submit your resume.  You can't download a printable application form for FreshBerry Yogurt.
For hourly positions, if they have a vacancy you may be interviewed when you go in or on the next day, so make sure that you will be prepared for this. It probably won't be necessary to wear a business suit but you should still be well presented and dressed smartly.
Always make sure you greet the interview in a friendly and professional way, smile, make eye contact and give a firm handshake.  How they perceive your personality and attitude are always important as most roles are customer facing.  You may need to follow up after your interview to check on your application status.
Also See:
Peets Coffee And Tea: Visit the Peets Coffee And Tea application.
Smoothie King: See our guide for careers at Smoothie King.
Cold Stone Creamery: Visit the Cold Stone Creamery application.
Red Mango: See our resource page for more information on Red Mango careers.
Bruster's Ice Cream: For employment at Bruster's Ice Cream visit the application page.
Company Links
http://freshberry.net/contact.html
http://freshberry.net/about.html