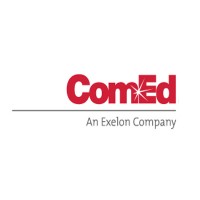 As a successful utility and energy delivery company, ComEd has become known as a leader in the electric utility industry. If you have an interest in working for a century old, established company, information about filling out a ComEd application can be found below.
The Commonwealth Edison Company is a subsidiary of the Chicago based company, Exelon. Exelon is one of the nation's largest electric utilities, servicing around 5.4 million customers. ComEd was founded in 1907 and already operates over 90,000 miles of power lines in an 11,400 square mile territory. That territory extends from Iroquois county up to the Wisconsin border, over to the Iowa border, and across to the Indiana border. They're services reach more than 3.8 million customers.
Due to their enormous success, this company offers numerous opportunities for people to begin ComEd jobs on their way to a lasting career. Focused on benefiting the people, environment, and economies of each community they serve, this company is able to further its success through employee volunteers, charitable contributions, sponsorships, and their CONSTRUCT program.
ComEd prides itself on maintaining a diverse environment that cultivates fun, friendly, and energetic employees. They offer flexible hours, great training programs, and competitive pay to all associates. With an emphasis on diversity and inclusion and the values of 1) safety, 2) integrity, 3) diversity, 4) respect, 5) corporate citizenship, 6) accountability, and 7) continuous improvement, this company's continued reliability is never questioned.
ComEd Careers
Throughout their offices, ComEd careers offer a wide range of possibilities for everyone. They offer in office positions including customer service representatives, accounting and finance personal, clerical/administrative positions, and many more. Also offered are field positions such as engineering technicians. This comprehensive list should give any potential applicant confidence that there is always a position perfect for them with ComEd.
Corporate posts are also readily available. The main office, located in Chicago, Illinois, can be reached by the telephone numbers available on their website for any enquiries regarding the company or how to apply for ComEd online. Most ComEd offices are open from 7:00 AM to 6:00 PM Monday through Friday. Services are available 24 hours a day, 7 days a week for any and all emergencies.
How old do you have to be to work at ComEd? Most entry level positions require a minimum age of 18 years old. However, some positions may require a Bachelor's degree, implying a higher age limit.
A few of the things offered to ComEd staff are competitive salaries, a reliably fun work environment, and excellent training programs. Advancement opportunities are also in great supply with this company. Health benefits including medical, dental, vision, life, disability, accident, and critical illness coverage may be offered to certain upper level employees, but the packages vary per locations and positions. Also offered are tuition reimbursement programs and 401k plans. These are just a few reasons to apply for jobs at ComEd and seek employment with a company whose job opportunities are never ending.
Job Description and Salaries
First Line Supervisor: These employees will plan, coordinate, and direct subordinates in the execution of scheduled and emergent activities while providing excellent leadership to the workforce. They must coach and evaluate associates, coordinate emergency responses, and work within department budgets. Applicants should have 5-8 years of related experience, a valid driver's license, and great leadership skills. The annual pay is around $85,000.
Associate Business Analyst: An associate business analyst will be responsible for supporting short term and long range business planning processes while conducting modeling, forecasting, trending, and variance analyses. They will handle business case development, develop and provide statistical information, and monitor and coordinate the business unit. They should possess a Bachelor's degree, basic analytical skills, and a proficiency in standard software applications for an annual salary of $60,000.
Staff Accountant: Responsibilities for this position include supporting and participating in the monthly financial statement, preparing, reviewing, and analyzing account reconciliations, preparing monthly budgets, and interacting with internal and external auditors. Applicants should have a Bachelor's degree and a 2 year related work background.
Engineering Technician: They perform testing assignments, evaluate the effectiveness of the current distribution center, participate in training, perform preventative maintenance and corrective maintenance, conduct hands on testing of equipment, and assist with the restoration of malfunctioning equipment. An associate's degree is required for an annual wage of $60,000.
ComEd Interview Questions
After searching for ComEd jobs online and filling out your free application, it's time to begin preparing for the possible enquires made during the in-person process:
What unique advantage would your field of study offer to this position? Talk about the past positions you've held and what they've taught you about this particular field. Also, if you have a degree, discuss how that degree will benefit both you and the company. Discuss what classes you took and what skills you obtained through those classes.
How would you handle a dissatisfied customer? Be sure to stress that customer service is of the utmost importance to you and that you would, to the best of your ability, rectify the situation and satisfy the company. Also, mention that you would be willing to ask for the help if needed.
How would you handle a disagreement with your supervisor? Maintain that you would be respectful and professional regardless of any disagreement. Express that you would follow directions and, calmly, discuss any issues you may have with your superiors.
What are your weaknesses? Do your best to not be too negative about yourself when answering this. Try to use examples that could be construed as positives as well as negatives. Examples: "I'm a perfectionist" or "I work too hard."
How would you handle a difficult, angry customer? Again, stress the importance of customer service to the hiring manager and assure them you would be willing to go above and beyond to please any customer.
Advice for Application Process
Whether you are looking for a printable application for ComEd, a direct application, or a simple "download application form" tab the ComEd application process is easy to use for everyone. The easiest way is to apply online by utilizing the second link listed below. There you will find a search engine where you can search available openings by category or by location.
To complete the online application you will be required to search for openings, choose a position, read the description carefully and thoroughly, and then click the "apply now" button at the bottom of the page. Simply follow the provided directions to fill out as many applications as you'd like. Unfortunately, there is not a printable application form on the ComEd website, how visiting your local office for a hard copy is always an option. Just be sure to take in a copy of your resume.
For the in person meeting with the manager it is important to remember to dress professionally, exhibit good hygiene, and show your personable nature. This company is primarily based in the customer service business, therefore, being friendly and energetic is vital to your success.
Remember, it is always a good idea to have a few enquiries of your own.  A few examples of these could be:
When are you looking to fill the position?
What do you expect from an employee?
How often do you promote employees?
This will show you are an eager applicant. It would also be beneficial to you to reveal any and all company knowledge you possess. Doing a little research beforehand can only help. At the end of the meeting, thank your interviewer for the chance to meet with them and shake his or her hand before leaving.
Also See:
Indianapolis Power & Light: See this page for jobs at Indianapolis Power & Light.
Nicor Gas: See our resource page for more information on Nicor Gas careers.
DIRECTV: Visit the DIRECTV application.
Randstad: Use the Randstad job application to apply here.
CEVA Logistics: Visit the CEVA Logistics application.
Company Links