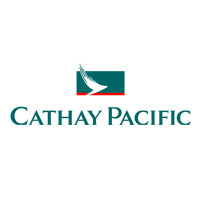 Cathay Pacific Airlines currently serves one hundred and eighty-one destinations in fifty-one countries across the world.  They have eight subsidiaries, all in Hong Kong, and over twenty-two thousand employees for Cathay Pacific Airlines alone.  A link to apply for jobs at Cathay Pacific Airlines is at the bottom of the page.
Founded in 1946, by American Roy Farrell and Australian Sydney de Kantzow, Cathay Pacific Airlines was originally based out of Shanghai. Shortly afterwards, they moved to Hong Kong.  Throughout the 1950s and 1960s, the company grew, buying Hong Kong Airways, and expanding flights with flights to three cities in Japan.
In the 1980s, service continued to expand, going to North America and London.  Cathay Pacific airlines bought up cargo shares and updated their fleet in the 1990s.  Currently, the company is making record profits and still expanding to new airports.  They are also getting closer to Air China, with each company having a seventeen percent share in the other.
Cathay Pacific Airlines aims to be the best, but they feel as though they can't be the best if they don't work with their values and the sustainment of the environment.  Currently, the company focuses on waste, noise, climate change, conservation, and air quality.  Cathay Pacific Airlines includes all their values in all aspects of business and across all their subsidiaries.
Cathay Pacific Airlines Careers
Any Cathay Pacific Airlines jobs that are available require you to be able to legally work in the country that you're applying in.  Unless you're the right candidate for the job, the company will not sponsor work authorizations.  There are several positions open in the corporate office, but that is in Hong Kong.  All Cathay Pacific Airlines jobs online are very specific in their location and if you can apply for them.
At the local level, search your country to see if you can fill out a Cathay Pacific Airlines application.  Within those countries, there may be multiple airports that Cathay Pacific Airlines flies from, so make sure you pick the proper region as well.  As this company has several subsidiaries, you may find yourself doing work with or for one of them.
How old do you have to be to work at Cathay Pacific Airlines? For most jobs, you have to be over nineteen, but age requirements vary by job.  Some jobs also have height requirements so that you can help put things safely in the overhead bins on the planes.  Read all the job descriptions carefully, some require you to be able to speak multiple languages, have various degrees, or a certain amount of time in a certain field.
Benefits are flexible for those with Cathay Pacific Airlines careers.  However, there is a set of core benefits, including various insurance plans, medical coverage, and retirement plans.  If you feel as though you need more benefits, there are more plans available at a greater cost. All employees and their immediate family, six months after starting, can travel on the airlines with employee discounts on flights.  Benefit packages are also dependent on your location.
Cathay Pacific Airlines Job Descriptions
Cargo Sales Executive – Having great communication skills are key as you notify customers of their cargo locations, maintain and increase the customer base, and represent the company at various functions. You will keep an eye on the market in order to competitively price and look for ways to move cargo at profit. Compensation is competitive.
Cargo Manager – You must be organized as you deal with people from all levels of the company and aviation officials while moving cargo around the country.  This job also entails managing teams of workers while maintaining and growing the customer base because of your teams' excellent service and high standards. Compensation is competitive.
Flight Attendant – Having a personality that makes people feel welcome is a must for this job, as you will be interacting with customers with all sorts of backgrounds and cultures.  You will make all sorts of friendships with your coworkers as you travel the world. Compensation is around $20 an hour.
Pilots – Before becoming a pilot, you must go through an intense fifty-five week program. Then, you may start flying around the world.  However, you must be able to legally work in Hong Kong and be able to speak English fluently in order to be a pilot. Compensation is dependent on years in the service and flying time.
Cathay Pacific Airlines Interview Questions
Here are some questions you may be asked during the interview process:
Why do you want to work for Cathay Pacific Airlines? This is an extremely common interview question, so be prepared for it.  Explain what drew you to the company and why it's your first choice, whether it was the company benefits or culture.
What experience do you have? Be specific while highlighting all the relevant work experience do you have.  If you're applying to be a flight attendant, make sure to point out all the customer service jobs that you've had.
Where do you see yourself in the next few years? Your interviewer wants to know if you see yourself with company.  Be realistic in your career projections, don't be afraid to let your interviewer know that you will take on extra challenges and responsibilities in order to move up in the company.
How would you deal with an upset customer? Because this company has an intense focus on great customer service, you may be asked this question.  Be prepared with plenty of examples and ideas.
If you're applying for a pilot or to be a cadet pilot you may be asked: What kind of flying experience do you have? This company offers a pilot training program, but there's also an advanced program and, if you have flying experience, an even faster track to becoming a pilot.   It's key to be honest in this part of the interview so they can make sure that they get you in the right place.
Advice for Application Process
How to apply for Cathay Pacific Airlines online: start by selecting the area of the world that you're interested and legally able to work in.  Find the Cathay Pacific Airlines application that you want to fill out.  Every region has a different way to fill out an application.  For the United States, you will email or fax your resume and a cover letter to a certain email address.  In Hong Kong, there are links for you to fill out to the jobs that you want. There is no printable application for Cathay Pacific Airlines.
Do research on the company and the industry before you attend your interview and make a list of questions to take in with you.  Several of your questions will probably be answered while you talk with your interview, but having the list will show your preparedness and place you above the other candidates.
Have a positive and respectful attitude towards your interviewer.  There will probably be two interviews, both with a formal tone, so dress appropriately.  In the first interview, you will be asked to talk about yourself, your resume, and various situations that you've been in and how you've dealt with them.  If you have a second interview, you may be asked about how you would react to certain situations or to complete assessment tests.
After your interviews, make sure to show your gratitude for the opportunity to be there.  Ask questions about the best way to check on your hiring status. No job applicants will get the job during the interview process as Cathay Pacific Airlines will want to screen all applicants before making a final decision.
Also See:
Oceania Cruises: See our resource page for more information on Oceania Cruises careers.
Carnival Cruise Lines: See our resource page for more information on Carnival Cruise Lines careers.
Alaska Airlines: Visit the job application for Alaska Airlines to apply today.
Princess Cruises: Princess Cruises offers opportunities for both, beginners and experienced roles.
Japan Airlines: See our guide for careers at Japan Airlines.
Company Links
http://jobsatcathaypacific.com/global/join-the-family.php
http://www.cathaypacific.com/cx/en_HK/about-us/careers/apply/apply.html