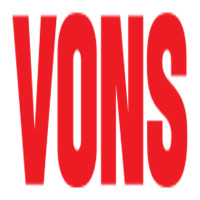 Vons is a Southern Nevada and Southern California chain of supermarkets owned by Albertsons. Their headquarters is located Fullerton, California and they operate stores under the Pavilions and Vons banners.
Vons' origins can be traced back all the way to 1906, when a businessman named Charles Von der Ahe first opened a small store called Von's Groceteria in Los Angeles.
Vons currently has 273 stores serving millions of Southern Nevadans and Californians with 16,000 employees. It's Southern California's number one grocery retailer.
Benefits that Vons employee receive include medical plans, vision care, prescription drug allowances, employee assistance program, dental and orthodontia, paid time off, basic life insurance, employee association, and educational programs.
Vons also give its employees unlimited opportunities to advance professionally and grow personally. They offer numerous trainings and educational programs with an aim to develop their employees and prepare them for future career advancements.
How old do you have to be to work at Vons?
The minimum age required for working at Vons is currently set at 14. This is for positions like Cake Decorator and Courtesy Clerk. Other positions require the employee to be at least 16 years old.
Vons Careers
Vons has openings for job positions in Retail, Pharmacy & Wellness Center, E-Commerce, Distribution Manufacturing, and Corporate departments. Here are some of them.
Inventory Control Specialist: The Inventory Control Specialist researches warehouse issues and implement corrective actions, performs daily weekly runs for inventory, assists the Accounting Department with issues in billing, reconcile the store returns and implement adjustments as necessary, prepares the return items for pickup, verifying case and item counts, handle spoiled or damaged merchandise, relocate merchandise to correct inventory issues, and other tasks required by the position.
Delivery Driver: The Delivery Driver operates the company owned truck, delivers the merchandise to places of business and homes while adhering to time frames, establish close relationships with the customers, physically load or unload the merchandise, and maintain a transportation log accurately.
Floral Operations Specialist: The Floral Operations Specialist travels to stores and shares merchandising plans to staff and management, works with Store Managers and Directors in product merchandising, evaluates department presentation, participates in sales meetings, supervises departmental sales, implements merchandising strategies and programs, monitors the activity of the competitors.
Maintenance Specialist: The Maintenance Specialist formulates procedures, policies, and objectives related to the maintenance programs of the company, manages maintenance programs in the corporate level, links division and store retail operations employees to the in-house and external vendor resources to minimize company expenditures, monitors maintenance expense reports and comparing them to historic costs.
Meat Apprentice: The Meat Apprentice must provide excellent customer service as defined in the company policy, operates grinders, saws, and other machineries used in meat processing, cut and trim meat products, inspect and sort meat products according to parts and grades, monitor expiry dates of products, and maintain the area according to the local, federal, and state regulations as well as the company policies.
Pharmacy Third Party Call Center: The Pharmacy Third Party Call Center agent answers pharmacy calls related to billing, provides help to retail pharmacies, determines issues in the system and reports them to the proper channels, log calls for reporting and tracking purposes, liaise between insurance claim processors and pharmacies in resolving prescription issues.
Pharmacy Technician: The Pharmacy Technician assists the pharmacist in filling up the prescriptions and updating the patient profiles under the Pharmacist's direct supervision, input, access, and retrieve information on the computer system used by the pharmacy, prepares insurance claims, orders and stocks the prescription drugs and other supplies, and maintains the cleanliness of the pharmacy area which include the restroom.
Pharmacy Intern: The Pharmacy Intern performs all tasks assigned while being supervised by a registered pharmacist, takes all the required steps in filling prescriptions, offers consultation and advice to customers, implements initiatives to increase the profitability of the pharmacy, and participates in clinical services.
Procurement Department Specialist: The Procurement Department Specialist forecasts and procures promotional products, maintains accepted inventory levels, issues purchase orders to the vendors, manages the efficiency of the working capital, manages the ordering process for new items, collaborates with vendor partners in achieving the set goals while monitoring the performance.
Asset Protection Specialist: The Asset Protection Specialist monitors the store's checkout area for consumer fraud, employee dishonesty, and if cash register procedures and policies are being followed properly, observes the customers to supervise shrink control, customer service, and safety, and assists in the inspections initialized by the Asset Protection department. 
Vons Application
Interested applicants may visit the career page of Vons official website to look for job openings which fit their qualifications. There are openings for Retail, Pharmacy & Wellness Center, E-Commerce, Distribution Manufacturing, and Corporate departments.
Applications can be done online but the interested applicant must first create and register an account for proper addressing and monitoring of the candidate's employment status.
When filling up the application, the applicant must ensure that all required and important information are entered properly and accurately to expedite the hiring process.
The resume should show the applicant's educational attainment and also past work experiences that are related to the position being applied for. This is for proper matching of qualifications to job requirements.
When called for an interview, the applicant should come before the given time to avoid cancellations. He or she should also come in business attire.
Things to Know About Vons
Vons has always been a people business and the company's philosophy is focused on thoughtful people practices. This is the company's core element.
Vons employees are familiar with voluntary work and one of the most recent programs was providing disaster relief for people affected by the Colorado wildfires and floods.
Vons is known for providing quality, affordable, and sustainable consumer goods and other services within its stores like dry cleaning, banking, and photo centers.
Vons gives back to the community by holding programs like wildlife preservation, preventing childhood obesity, walk for a cause, back-to-school programs for students, involving with Habitat for Humanity, and other social activities and efforts. 
Application Links
Company: http://www.vons.com/
Careers: http://www.careersatsafeway.com/
Application: N/A