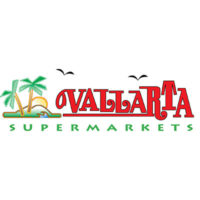 Vallarta Supermarkets Inc. is a United States based supermarket chain. It is situated in Sylmar, Los Angeles located in California. These supermarkets are best known for catering to the expanding population of the Latino culture. Usually, products found here are not common in the American supermarket scene.
In 1985, Vallarta Supermarkets was founded by a native Mexican man named Enrique Gonzalez Aguayo. As of November 2016, these supermarkets have 50 locations in California. Mainly these stores are in southern California. More recently, stores have been created to the north with three Vallarta Supermarkets in Fresno. Enrique Gonzalez Sr. was later joined in the business by his son, four brothers and his nephew.
Since its opening in 1985, Vallarta Supermarkets has grown to reach a total 49 stores in California present day. The company employs roughly 8,000 employees to date. They hope to optimistically impact 100 communities in the future, around the year 2030. Current locations can be found in the counties of  Orange, Kern, Ventura, Tulare, Los Angeles, San Bernardino, San Diego, Santa Barbara and Fresno.
Entry level and part time jobs do not entail benefits. If benefits are offered for the position being applied for, they make take a certain amount of months to acquire. Heath insurance is given to those who qualify and work full time.
For more than 25 years, Vallarta Supermarkets maintain tight knit family values, great customer service, cleanliness, a pleasant shopping atmosphere and a large variety of products in the many departments showcased. Employees generally enjoy working here because of the friendly ambiance within the stores. Customers work closely with each other as well as the consumers each day.
How old do you have to be to work at Vallarta Supermarkets?
In order to work at Vallarta Supermarkets, the employee must be 18 years old or older to apply. Since its opening, the Gonzalez partners meet weekly to talk about business strategies as well as how to continue to improve their customer service. Employees need to be knowledgeable, approachable and helpful.
Vallarta Supermarket Careers
There are a variety of careers to chose from in this field. Most employees start out as a cashier or as a stocking associate in order to climb the ladder and reach higher career goals as time moves forward. Since the company is a specialized supermarket, one must have the correct knowledge of the stores products and what is to be expected in the position being applied for.
Cashier: Individual is responsible for operation of the cash register and receiving payment for items purchased. Accurate money handling is a must as well as the balance of all cash collected until a shifts end. A thorough knowledge of the foods and beverages served in the Taqueria are very important. The employee must show a positive attitude towards the job and exhibit good communication skills along with an understanding of patience.
Courtesy Associate: This is a very fast paced environment to work in. Duties include multitasking, interacting with new customers everyday and some various stock work when needed. Make sure items are plentiful and stocked accordingly. Greet customers with a smile and offer assist them when needed. Employer must be aware of weekly deals, specials, sales and events.
Dispatcher: Job entails both a productive and busy department of work. The meat department has much information to absorb. Responsibilities require the correct send out and delivery of food orders. Prime cuts need to be recognized as well as the grade, quality and quantity of the meat being purchased. 
Baker: This employee is held responsible for helping customers and keeping up with the fresh baked goods. Must also be in charge of setting the displays up, packaging items, baking fresh desserts and breads and washing dishes. The area of bakery food preparation will be clean, neat and ready to perform at all times.
Cake Decorator: Quick paced yet intricate job. Cake decorators must be prepared to take and follow orders and create them to their clients desire. An efficient baker and hard worker shows passion and potential. Duties include making sure the work area is prepped and tidy and making sure the cakes are completed on time. 
Cook: The cook is in charge of general food preparation. The cook coordinates the orders of the customers quickly and with full efficiency. One must pay close attention to detail while cooking. Experiences of high volume orders are to be expected at Vallartas. 
Butcher: Experience is needed to attain this position. The butcher is in control of the meat coming in and going out of the supermarket. A hard work ethic is among many values necessary. Values learned are courtesy, respect, promptness and having a presentable work space. Responsibility is a must. 
Stocking Associate: Will be in charge of all stock work. Items in store must be moved from the main warehouse or delivery truck into the store. The employee must check expiration dates and rotate the products accordingly. The stocking associate will report to the Warehouse Manager as far as requirements and orders/shipments of the day. 
Produce Associate: This particular associate must make sure the produce of the store is fresh and ready to be sold. Organization is key as well as the aesthetic of the produce. The employee must make sure all foods in their department are properly maintained and well ripened. 
Produce Supervisor: Will assist the District Manager in the supervision of maintenance of an effective operation of the produce department. Their duties are to understand the customer and business needs. They are responsible for the overseeing of employees in order to ensure the compliance with health and safety regulations. They must hold a great quality in selection for many factors that cater to the Vallarta Supermarket consumers. 
Accounts Payable Clerk: This employee must demonstrate strong problem solving skills. They will be responsible for processing and organizing daily mail and vendor invoices. The clerk ensures that the received invoices are charged to the correct department and correct store for the correct amount. The individual prioritizes work activities and is time efficiently. Quality control is also a must. Data entry skills are preferred as well as paying attention to details.
Vallarta Supermarkets Application
When applying to the Vallarta Supermarket closest to you, visit their main website. At the bottom of the page, there will be a link titled Join Our Team and click on it. Chose the desired state of application and move forward onto the application process.
To apply for a job, print out the application as a PDF and then fax or mail it to the main supermarkets cooperate office. If it is more convenient, there is an online application that can be filled out and sent in electronically as well.
When going through the application procedure, it is important to answer honestly. Be yourself and be sure that the resume provided is up to date and corresponds with your work ethic at past jobs. Working at a Vallarta Supermarket can be enjoyable and fun. A candidate should posses the skills necessary to comply with customers and co workers. Multitasking is a must for job opportunities such as the positions found at these supermarkets.
The submitted resume must display all valid information. Everything should read correct via proof reading and adjustments need to be up to date. Add skills and qualities possessed that may be appealing to the current job being applied for. A background of experience always helps, however, a willingness and eagerness to learn will not go unnoticed.
Show enthusiasm during the interview process. Factual knowledge about the career attempting to be attained shows both interest and a passion towards the company. Interviewers are impressed by the way one holds themselves. Make sure to be well spoken and ready to accept the various responsibilities given if hired. Most importantly, show a good sense of confidence.
Things to Know about Vallarta Supermarkets
For over 25 years and still going strong, Vallarta Supermarkets are dedicated to many cultures. Their main focus encompasses the Hispanic population in America today. The Gonzalez family roots originate in the small town of Jalostotitlán located in Jalisco, Mexico. Most foods consumed here are more typical of the Latino culture.
In April of 2014, the staffs of the Oxnard Chamber of Commerce Board of Directors and the Host Committe welcomed these chain of stores in to the Oxnard business community. California based Vallarta Supermarkets made the list of the "Top 50 Small Chains and Independents for 2016" just last year.
Known for their colorful backdrop of their many traditions, their culture is reflected in the food sold. Weekly specials and events can be found here frequently. These stores offer consumers at all locations a variety of products of the highest quality at affordable prices. Also, they have pride in providing only fresh, top grade meats throughout the highly ranked meat department.
Vallarta Supermarkets support the Children's Miracle Network, Aisles of Smiles and the Muscular Dystrophy Association. These supermarkets are also very active in the communities where the many Vallarta stores are located. Local non-profit organizations ranging from charities, schools, churches, as well as other non-profit groups, are some of the many different organizations the Vallarta Supermarket companies are proud to support.
COMPANY LINKS