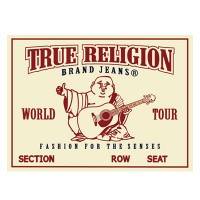 True Religion Brand Jeans is a US clothing company that has operations worldwide. Their products are famous for using premium denim. The company's headquarters is located in Manhattan Beach, California, USA.
The clothing company was founded in 2002 by Kym Gold and Jeff Lubell. The company grew fast, and in 2005 they opened their first flagship store in Manhattan Beach. By 2009, their products were being sold in 50 different countries.
In 2016, after reviewing more than 100 nominations, Retail TouchPoints announced that True Religion was one of the companies to win the 2016 Retail Innovator award.
The company provides their employees with many benefits. These include a 401K plan, life insurance, healthcare insurance, dental & vision coverage, and paid vacations. They also get big discounts when they buy jeans from the brand.
What employees love about working for the company is that they employ an organized management that teaches the employees about their duties properly. The discounts also help them save money, while the working environment was a good balance of work and fun.
How old do you have to be to work at True Religion?
Applicants who wish to work for the company must possess all of the job requirements and pass the minimum age requirement of at least 18 years old in order for them to receive hiring consideration.
True Religion Careers
True Religion offers fulfilling careers for people who can help them work towards success.
Sales Associate: A sales associate assists the customers while they shop. They answer questions, provide information and suggestions, find certain products, and organize the apparel. During busy days, they can also operate the cash register. Sales associates need to have good customer service skills and the patience to handle difficult customers.
Key Holder: A key holder does a variety of duties. Before the store opens, they arrive early to prepare the store for operations. During the day, they do different things such as organizing the apparel and operating the cash register. When the store closes, they are last to leave in order to make sure everything is settled and that the establishment is secure. They are responsible for making sure the store's keys and security codes are secure.
Cashier: A cashier makes sure that the customers get an easy and efficient checkout experience. They operate the store's cash register, accept payments, process transactions, bag products, and give change. They are also responsible for providing customer service and for securing the cash register's contents. Cashiers need to have good customer service skills and proper grooming since they interact with the customers.
Buyer: A buyer determines which kind of products will be offered in the store. They research about popular products, determine which to buy, and create deals that can benefit the company. They also study the consumer trends to know what kind of products the customers will be looking for. Buyers need to have good negotiation and decision making skills.
Store Manager: A store manager keeps an eye on the store's day-to-day activities. They provide leadership by giving out instructions and ensuring that everyone is doing their job. They also act as quality control by checking how employees work, asking customers about their experience, and checking product quality. Store managers are also responsible for the payroll and for making performance reports. Their job requires them to have good leadership, organizational, and management skills.
Assistant Store Manager: An assistant store manager provides assistance to the manager in overseeing the store's day-to-day operations. They provide quality control by observing how employees work and checking product quality. When the store manager is absent, they will assume the store manager's leadership role. Their job requires them to have good leadership skills.
Human Resources Generalist: A human resources generalist takes care of the company's staffing needs. Their duties include recruitment of applicants, screening, conducting job training, ensuring employees get benefits, and making sure that the employees are performing their duties.
Retail Merchandise Coordinator: A retail merchandise coordinator is responsible for ensuring that the store always has a supply of products and for promoting these products. They ensure that the goods follow the latest fashion trends and that the products are displayed in a way that can tempt customers to buy them. Their job requires them to have attention to detail and they must have extensive knowledge about the products.
Financial Analyst: A financial analyst provides the company with insight regarding financial matters. They study financial data, find details which can help them improve the company, and tell the company what they have analyzed. Financial analysts need to have a background in finance and attention to detail.
General Manager: A general manager oversees the company's operations in an area. They review performance reports from store managers, go from store to store to check their operations, and send reports to the company. General Managers need to have good leadership skills and the patience to travel a lot.
True Religion Application
Applicants who wish to land a job in the company need to put together the job requirements, ensure that they have the necessary skill set for the job opening, and submit an application to any True Religion store.
If they are unable to do an in-store application, they can go for an online application instead. They can do this by finding their ideal job in the careers section of the company's official website and submitting their application through the same website.
When filling up the application form, the applicants must review their personal information so they can include anything relevant to their application. They should also ensure that they write the correct contact information so the company can easily reach them.
For the resume, they should use a format that highlights their credentials. Furthermore, they should use simple font formatting for better readability. They should also tailor the resume's contents to the job and company that they are applying for.
During the interview process, the applicants must exhibit confidence when answering questions and they must remain attentive to the interviewer. Furthermore, they should arrive according to the schedule while wearing a corporate attire.
Facts About True Religion
True Religion's culture is all about making sure that employees have a great relationship with each other and are given the opportunity to work as a team, as well as individuals.
In December 2017, months after filing for bankruptcy, the company has re-emerged by reducing its loans from $431 million to $113.5 million which, in turn, helped the company recover some of their growth.
The company is known for offering a huge variety of apparel and accessories. They are well-known for producing quality apparel which are very distinct and loved by trendsetters worldwide.
To give back to the community, the company has made it a point to use environment friendly materials and power-efficient equipment for producing their different products.
Application Links
Company: http://www.truereligion.com
Careers: https://www.truereligion.com/company-careers.html
Application: N/A