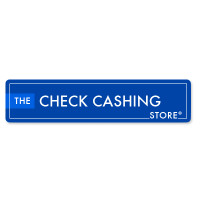 People who fill out The Check Cashing Store application are looking to help people that need payday loans for the short term or to cash checks.  With over one hundred stores in Florida, the company aims to be there for those who need it.  Links to apply for jobs at The Check Cashing Store are at the bottom of the page.
The Check Cashing Store was opened in 1982.  During the 1990s, they were bought and run as a subsidiary of Buckeye Cash Checking (now CheckSmart) until the 2000s.  At that point, ownership was bought by the DFC Global Corp, Inc. who has run it ever since.
Although The Check Cashing Store devotes most of its attention to cashing checks and offering short term loans, the company is branching out.  At some locations, they've started offering cash for gold in order to diversify their store offerings for customers. All store locations also offer prepaid debit cards, bill payment for select companies, and money transfers.
The Check Cashing Store values their customers and strives to give them the best customer service to make sure that they feel appreciated.  With locations all over Florida, they aim to be convenient and easy to access for anybody that has to make use of their services.
The Check Cashing Store Careers
At the corporate level, you may not be working with The Check Cashing Store as they are run by the DFC Global Corp, Inc.  Many of the positions available will not be working with one specific subsidiary as the company is worldwide or you may be spending time making sure that the corporation is working smoothly.
Local The Check Cashing Store jobs will have you working on the front line with customers to give them the service that they need.  With stores scattered across Florida, there are multiple locations that you could work at that work best with your location.
How old do you have to be to work at The Check Cashing Store? Age requirements vary by job.  As you look at The Check Cashing Store jobs online, make sure to read all of the position needs closely because some require various degrees, experiences, or certifications.
Those with The Check Cashing Store careers know that store hours vary by location.  Generally, stores are open by ten am and close anywhere between five and eight pm.  Sunday hours are always different, as some locations are closed and others run on reduced hours.  Holidays also effect store hours.
The Check Cashing Store Job Descriptions
Customer Service Representative – Having a positive, friendly attitude is key to this position as you work to provide quick customer service while being able to recognize the types of checks that are being cashed.  As needed, you will help maintain the store's cleanliness.  Compensation is around $40,000 a year.
Store/Branch Manager – You will work to make sure that the overall operations of the store are going smoothly by making sure that staff members are giving excellent customer service, sales goals are being met, and that checks are being cashed to company standards.  Compensation is around $50,000 a year.
Office Administrator – By working in the corporate office, you'll offer support to various executives and general staff members.  As needed, you'll arrange travel and create expense reports for reimbursement.  Compensation is around $40,000 a year.
Business Continuity Manager – Your focus will be on the North American businesses and making sure that everything is working smoothly and well.  Proactively identifying and combating threats is a big part of this position.  Compensation is around $80,000 a year.
The Check Cashing Store Interview Questions
These are some questions you may be asked during your interview:
Why do you want to work for The Check Cashing Store? As this is extremely common interview question, you should be prepared for it.  Talk about what drew you to the company, whether it was the company culture or benefits and why it's your first choice in places to work.
What experience do you have? Highlight all of your relevant experience.  If you don't have any, instead talk about what you can bring to the company and the position.  Use plenty of examples to back up and enhance any claims you make.
Where do you see yourself in the next few years? Your interviewer is looking to see if you're planning on staying with the company.  Be realistic in your career expectations, but let your interviewer know you're willing to take on extra responsibilities and challenges in order to move up in the company.
As The Check Cashing Store relies heavily on customer service, you may be asked this question in the form of a hypothetical situation: How would you take care of an upset customer? Be practical and realistic as you walk your interviewer through the steps you would take in order to turn the customer's experience around.
Some positions require you to stand or sit for long periods of time, so you may be asked this question: Is there anything that could keep you from doing your job? Be honest, they want to make any arrangements that they can so that you can do a great job in your position.
Advice for Application Process
How to apply for The Check Cashing Store online: make sure you set your search limiter for this particular company.  Make sure, as you look at the jobs, to read all positions requirements carefully before filling out a The Check Cashing Store application. There is no printable application for The Check Cashing Store available on their website.
Before going in for an interview, do research on The Check Cashing Store and the industry in order to have a list of questions that you can ask.  This may seem excessive, especially for an entry level position, but it will place you in front of the other candidates as it shows that you think ahead.
Dress nicely for your interview in business casual as your interview will take place in a semi-formal setting.  If you've applied for a managerial, supervisory, or corporate position, a suit would be appropriate.  Have a positive and friendly demeanor when you attend your interview as it will give a good impression.
Show gratitude at the opportunity to interview with The Check Cashing Store.  After your interview, inquire about the best way to check on your hiring status because few applicants will learn if they got the position they applied for during their interview.  The Check Cashing Store will want to screen all candidates before making a final decision.
Also See:
ACE Cash Express: See our guide for careers at ACE Cash Express.
Cash America: Cash America offers opportunities for both, beginners and experienced roles.
Charles Schwab: Checkout the application page for work at Charles Schwab.
SVB Financial: For employment at SVB Financial visit the application page.
Fifth Third Bank: For employment at Fifth Third Bank visit the application page.
Company Links