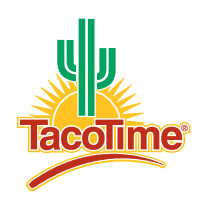 People who are filling out a TacoTime application are joining Kahala Brands which runs fourteen other companies, besides Taco Time, across the world.  Links to apply for jobs at TacoTime are at the bottom of the page.  There are also links to become a franchise owner with the company in the same place.
Ron Fredrick started TacoTime in Eugene, Oregon in 1960 after Fredrick took a trip to Southern California and fell in love with Mexican cuisine. Only two years later, the first franchise was opened.  By 1970, there were almost fifty restaurants in seven states across the Western United States.  The first international franchise was opened in 1978 in Alberta, Canada.
TacoTime Northwest became a licensee in 1979, with the ability to operate and franchise the concept independently.  The actual TacoTime company exploded with growth, opening more than three hundred franchises in the US, Canada, Kuwait, and the Netherlands Antilles.  In 2003, the company was purchased by Kahala Brands.
Although this company offers fast service, they do it without cutting corners, offering fresh, home-style Mexican cuisine.  Besides offering the traditional Mexican fare, they also have various salads in the vein of their usual offerings for those that want a healthier option.
TacoTime Careers
Corporate careers at TacoTime are all with Kahala Brands supporting any of their fifteen brands world-wide.  Several positions are based out of Scottsdale, Arizona, but there are several scattered across the world making sure that franchisees are meeting company expectations and standards.
TacoTime jobs at the local level are all run through franchises scattered across the United States and Canada.  Before a franchisee can take over and open their store, they go through at least thirteen days of training.  Each franchise is expect to plan and establish their own restaurant with the aid of a Kahala Brands representative.
How old do you have to be to work at TacoTime? Age requirements vary by job, but several positions will require you to be over the minimum age of employment for your area.  As you can't browse TacoTime jobs online, make sure to ask about any requirements that any position may require.
Those with TacoTime careers know that several restaurants are owned by different people, so they will have different hours.  Restaurant hours will depend on the location of the franchise and the number of people that they serve.  Some stores are open twenty-four hours, others are only open between ten thirty am and ten pm.  It's best to check with your local store for their hours.
TacoTime Job Descriptions
Cashier – After greeting every customer with a smile, you will take their order to their specifications before taking payment.  You will work closely with fellow team members to make sure that everything is working properly.  During slow times, you may go out and make sure that the dining room is clean.  Compensation is around $20,000 a year.
General Manager – You'll work to make sure that everything is working smoothly within your team as you strive to meet and surpass store sales goals.  As needed, you'll go out into the kitchen to make sure that things are moving quickly and meeting company standards.  Compensation is around $40,000 a year.
Cook – By maintaining a clean and organized kitchen, you'll turn out the quality of food that is expected while meeting company, state, and federal health standards.  Having great communication is a must so you can make sure that everything is made to order.  Compensation is around $20,000 a year.
Shift Supervisor – During you shift, you will make sure that everything is running smoothly and team members are providing the excellent customer service that is expected.  As needed, you may fill in for any missing employees.  Compensation is around $23,000 a year.
TacoTime Interview Questions
These are some questions you may be asked during your interview:
Why do you want to work for TacoTime? This is an extremely common interview question, so you should be prepared for it.  Talk about what drew you to the company, whether it was company culture or benefits and why it's your first choice in places to work.
What experience do you have? Highlight any relevant experience that you have.  If you don't have any, instead talk about what you can offer the company and bring to the position instead.  Make sure to use plenty of examples to support and enhance your claims.
Where do you see yourself in the next few years? Your interviewer wants to know if you see yourself with TacoTime.  Be realistic in your career expectations, but make sure they know that you're willing to take on extra challenges and responsibilities in order to move up.
As this company relies heavily on customer service, you may be asked this question in the form of a hypothetical situation: How would you take care of an upset customer? Be practical and realistic as you walk your interviewer through the steps you would take to turn the customer's experience around.
Several positions will require standing for long periods of time or lifting heavy objects, so you may be asked this question: Is there anything that we need to know about that will keep you from doing your job? Be honest, they'll try to make arrangements or settle you into a position that will meet your physical requirements.
Advice for Application Process
How to apply for TacoTime online: if you're interested in applying at the corporate level, make sure to read the requirements closely as you'll be working with Kahala Brands out of Scottsdale, Arizona.  In order to fill out a TacoTime application at the local level, you need to go to your local store.  There is no printable application for TacoTime on their website.
Before attending your interview, do research on TacoTime and the industry in order to have a list of questions that you can ask. This may seem excessive, especially for an entry level position, but it will show that you think and plan ahead and that will place you in front of other candidates.
Have a positive and friendly attitude when you attend your interview, it will give a positive impression.  Dress nicely for your interview, business casual if you can, as your interview will be in a semi-formal setting.  If you've applied for a managerial position, a suit would be appropriate.
Show gratitude at the opportunity to interview with TacoTime.  After you interview, inquire about the best way to check on your hiring status; some, but not all applicants will learn if they got the positions during their interview.  TacoTime generally wants to screen all candidates before making a final decision on who they hire.
Also See:
Wendy's: See our resource page for more information on Wendy's careers.
Culver's: See our resource page for more information on Culver's careers.
Rally's: Rally's offers opportunities for both, beginners and experienced roles.
Jimmy John's: For employment at Jimmy John's visit the application page.
Chipotle: Visit the job application for Chipotle to apply today.
Company Links