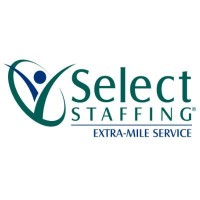 Select Staffing is a temporary staffing agency headquartered in Santa Barbara, California. The company was founded in 1985 and has over 400 offices around the United States. Every week they find work for 100,000 job seekers, placing them in positions with over 6,500 companies. It is a very large company and was even ranked the largest staffing firm in the United States in 2015.
Job seekers contact the agency in their area for assistance finding and obtaining either a permanent or temporary position. The agency gets to know the skills, background, and goals of the candidate. They then match the candidate to vacancies within their database of companies with positions to fill. This saves time and energy for both the job seeker and the employer. The agency also offers career advice for job seekers as well as offering workforce retention solutions to the employer.
The staffing company belongs to "The Select Family of Staffing Companies." This is an organization of industry-specific staffing agencies, including agencies for trucking, financial services, administration, and procurement and human resources. It also includes agencies that offer professional development course, which will make the job seeker a more competitive candidate.
The staffing agency's semi-official motto is "We GET People." Throughout the company literature, the company cites its deep understanding of the candidate as the secret to successful job placement. Not only professional skills and strengths but also employee lifestyle, motivation and goals are taken into consideration when placing a candidate.  They also promise the highest quality candidates, relying on screening technologies and interview processes to filter out lesser applicants.
Select Staffing Interview Questions
Would you put the interests of the company before your personal interests? Keep in mind that you are at an interview and this is not just a casual conversation with friends. With a company, you have to put the interest of the company before yourself quite often. BUT you must not forget about yourself. There has to be a balance between the two.
How do you view yourself? Very Successful, Moderately Successful, or Not Quite Successful. Remember: DON'T BE COCKY. Give a serious answer with this question. For example, if you answer "Very Successful," give an explanation. You can consider yourself successful because you have a wonderful family or you have had great career success in the past. Make sure your reason is good and not mediocre.
Are you acquainted with any of our current employees? Be upfront. If you have a best friend, a sibling, or family member already working for that company, let them know in the beginning because they will find out eventually. Do not lie to the employer like you do not know anyone there. Most places do not mine relatives or friends working together, but lying to them about it does not make you look you good.
Are there any questions for me? Is there anything that I need to clarify? If you have any questions for the employer, now is the time to ask if you haven't already done so in the earlier part of the interview. Write down some questions before your interview if you need clarification on anything. Also, having pre-written questions for the interview shows initiative and that you really want to know all that you can about the company and the position.
Company Links
http://www2.selectstaffing.com/selectstaffing/main.cfm?nlvl1=4&nlvl2=80