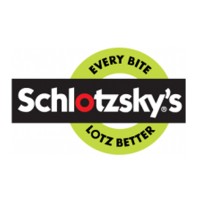 Schlotzsky's is a private restaurant franchise chain that serves sandwiches, specialty pizzas, salads, wraps, soups, and other food items. After being acquired by Focus Brands, the Cinnabon brand was added into their menu.
The company was founded in Austin, Texas in 1971 by Don and Dolores Dissman. It was purchased by Jeff and John Wooley and Gary Bradly in 1981 for less than $3 million.
It started being publicly traded on NASDAQ in 1995. But, after experiencing millions of losses, it came under new management by the Bobby Cox Companies and ceased being traded publicly.
Employees are provided with basic life insurance, employee assistance program, basic accidental death & dismemberment insurance, long-term disability, medical and dental insurance plans, supplemental life plans, dependent care plans, a scholarship program, matched 401k Plan, and a tuition reimbursement program.
People like working in Schlotzsky's for their great working atmosphere attributed to encouraging casual interaction with customers. They are given flexibility in scheduling their shift and opportunities for advancement and training.
How old do you have to be to work at Schlotzsky's?
You have to be at least 16 years of age to be able to apply and work for Schlotzsky's. For positions that involve the handling and operation of equipment, the age requirement is to be at least 18 years old.
Schlotzsky's Careers
Entry-level positions are available in both the restaurant and corporate arm of the business. Being a restaurant chain, most of the positions available are in their various restaurant locations. Although there are clear assignments in these positions, the business expects its employees to assist in other areas for the achievement of the collective objective of brand targets and standards.
Kitchen Team Member: Kitchen Team Members are tasked with the execution of the brand's standards and maintenance of product quality and recipe completion. They are given the duties and responsibilities in one or more of the following stations: prep station, meat, cheese & finish station, pizza station, soup and salad station, and bakery.
Sales Driver: Sales Drivers are tasked with ensuring successful restaurant operations, providing customer service, and achieving financial targets. They are assigned in a variety of stations such as drink, dining room, guest service, restroom, and parking lot/exterior. They are expected to drive sales through recommendations that can enhance the customer's experience.
Team Member: Team Members are responsible for the delivery of high quality made-to-order food and the creation of a clean eating environment for the customers. They must be able to work in teams and achieve their assigned tasks in various stations in the restaurant. This position is available full time and part time with three shifts available per day.
Cashier: Cashiers are primarily assigned in the guest service station. They handle cash according to company compliance, procedures, and standards. They enter guest orders while repeating said orders to reduce inaccuracies. A positive and welcoming demeanor is expected during interactions with the guests. At times, they are expected to assist in the various stations of the restaurant.
Team Leader: Team Leaders assist the management team in leading the different shifts to guarantee successful operations, excellent guest service, and achievement of business targets. They ensure tasks are met by the team members in the different stations of the restaurant. They address guest issues and handle employee training and discipline.
Assistant Manager: Assistant Managers help the General Manager in communicating targets and progress of in-store and final profit-and-loss reports to their team members. They perform day-to-day and end-of-period inventory checks, inventory procurement, and supply delivery checking. Also, they serve as role models to all employees while training and developing their skills and talents.
General Manager: General Managers provide the leadership and direction to the staff of the restaurant. They are responsible for ensuring the achievement of business objectives related to sales growth, business profitability, guest service, personnel development, cleanliness and quality standards, store marketing, and facility maintenance. They must be knowledgeable in the company and industry's procedures, guidelines, and standards.
Catering Customer Service Representative: Catering Customer Service Representatives accept and process catering phone orders and disseminate said orders to the appropriate store locations. They assist guests in providing and planning food orders while upselling/cross-selling to enhance guest service and experience. They are assigned to the brand's Austin, Texas high volume catering call center.
Catering Delivery Driver: Catering Delivery Drivers are responsible for the delivery of catering orders given to the store. Orders must be delivered in a timely, correct, and professional manner. They also canvas the delivery area for potential catering sales opportunities.
Intern: Intern positions are available in various departments of the business such as marketing, IT, human resource, culinary, operations, training, supply chain, franchises, and finance. They mainly support the department and its members to achieve project and periodic goals. They develop and maintain reports and research deemed necessary by the department and its members.
Schlotzsky's Application
To apply for a position, you can apply online or in-store. Applicants can browse job vacancies and apply accordingly. One can also use the online careers platform to know which restaurant locations have vacant positions.
Applicants can send in their applications either online or in-store. An in-store application is the fastest way to get hired for a restaurant position as the interview can take place immediately upon giving the application form.
Filing for an online application requires an account in their careers portal. Create one and the application process is pretty straightforward from there. When giving an in-store application, always be prepared for an interview.
The information in your resume is meant to catch the attention of managers and team leaders. Make sure to provide information that will make you an invaluable addition to their team.
Schlotzsky's hire people who fit in to their fun, engaging, and collaborating work culture. It is during the interview wherein they gauge if you have these qualities.
Things to Know about Schlotzsky's
They pride themselves of creating a fun and quirky environment for both their customers and employees. They seek to keep and promote talent so they provide as much growth and training opportunities as they can to their employees.
Focus Brands acquisition of Schlotzsky's came together with the inclusion of Cinnabon and the introduction of Kelly Roddy as its president. This gave the jumpstart for the brand to reimage itself into a playful, bright, and bold look and culture.
Schlotzsky's is known for their fun and engaging way of dealing with their customers.  In both their corporate offices and store locations, there's a sense of lightness and fun in their day-to-day operations.
They support the Juvenile Diabetes Research Foundation as part of their community involvement efforts. They are also committed, like other Focus Brands businesses, to the humane treatment and well-being of all animals.
Application Links
Company: https://www.schlotzskys.com/
Careers: https://www.schlotzskys.com/careers
Application: N/A