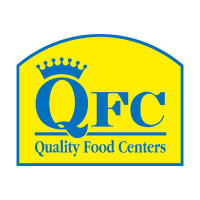 Quality Food Centers is a subsidiary of The Kroger Company, which was originally founded by Barney Kroger in 1883. One hundred and thirty or so years of expansion has allowed the company to become the consumer focused market conglomerate it is known as today. The Kroger Company operates more than two thousand and six hundred stores in a variety of business models, across thirty-four states in America and continues to grow.
One format of business model employed by Kroger Co. is called the "combination" store, which is marketed under banners including Ralphs, Baker's, Pay Less Super Markets, and Quality Food Centers. At a combination store location shoppers can find everything expected from a full service supermarket including meat, seafood, and produce departments, a delicatessen, a bakery, and floral center. In addition, in most combination stores, there is also a pharmacy and an expanded general inventory selection including pet related products.
The grocer is in public support of local children's hospitals including Doernbecher Children's Hospital and the Seattle Children's Hospital, both of which aim to serve families with the top pediatric care. Patrons of the Kroger supermarket are encouraged to make an in-store donation to these worthy causes. The market also participates in education related programs such as Box Tops for Education.
Kroger Co.'s combination stores have been countlessly accredited with several awards and notes of recognition. The Ralph's division received Orthodox Union's "Leadership Award" and the Kent Reported recognized the Quality Food Centers division with the "Best Grocer/Convenience Store Award".
QFC Interview Questions
What is your style as a manager? Answer this question generally, with traits that would be successful in any leadership position. Be honest about your strengths in this area, and include some positive experiences that you have had guiding others in the past. If you have not had management experience, you can still mention a time when you were particularly motivated in a group project, and how the success of the work relied on you and your decisions.
What questions do you have for me? A good answer/question for this is, "What is the next step I need to take to continue the hiring process?" This shows that you are dedicated to continue with the process, and that you are flexible to begin working whenever they need you to. Also, feel free to ask any questions you may have come up with during the interview. While it is good to make preparations before the interview, it is also important to keep in mind that you will likely not be prepared for everything, and that you should be able to answer any question on the spot. This is why the best advice for any interview question is to be honest and thoughtful in all your answers, prepared or otherwise.
What drives you to succeed at work? A question like this offers you a chance to thoroughly express some of your best qualities. Explain some scenarios where you have been especially successful, and honestly tell the employer what motivated you to go that extra mile. Your answer will show that you know yourself, your successes, and the reasons you do the things you do.
What defines you? This is the number-one most asked question during an interview. It can be easy to think more deeply than is necessary about this question, as it's general and can have multiple true answers for each person. But in this case, the employer is looking for an answer that can be applied to the workplace (unless they specifically say otherwise). It's good to prepare an answer that describes your work ethic and your career goals in a way that's honest, confident, and in chronological order.
Company Links
https://jobs.kroger.com/qfc/go/QFC/571500/