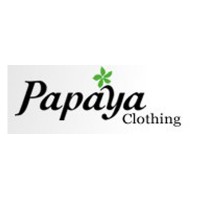 Papaya Clothing is a fashion retailer specializing in women's apparel which they receive directly from manufacturers. They stock an assortment of tops, dresses, accessories, and outerwear to satisfy the fashion needs of petite and junior individuals.
The retailer is owned by CornerStone Apparel, Inc., a manufacturer and supplier of work shirts, safety shirts, outerwear, medical wear, pants and shorts, and men's aprons. The company is based in Commerce, California and was founded in 1999.
Papaya Clothing operates more than 100 locations in 17 states. As the market size is currently small, the company focuses all its efforts into the further growth and expansion of their stores.
Part-time and full-time employees typically receive several benefits including vacation days, associate discounts, 401(k) plans, and in some cases, medical insurance. Benefits package varies by position and location.
The store serves as a fun and productive workplace for employees. Since the retailer focuses on female fashion, most of the associates are women. Girls and ladies with an eye for fashion will certainly love working at the store.
How old do you have to be to work at Papaya Clothing?
Candidates must be at least 18 years old to be considered for employment at Papaya Clothing. Entry-level jobs typically do not require work experience, but managerial and corporate positions prefer individuals with sufficient credentials and work history.
Papaya Clothing Careers
Papaya Clothing offers part-time and full-time positions in their stores. For individuals without prior experience, this may be an ideal place to kickstart a career in the retail industry, while those who have the competencies to lead in the fashion world may also find the best opportunities with the company.
Sales Associate: This entry-level job requires little to no experience. Individuals with good customer service, interpersonal, and selling skills may fill this position. Sales Associates are expected to assist customers with purchases and attend to their inquiries or concerns. They sustain overall store appearance and create a welcoming environment to attract more shoppers and drive more sales.
Cashier: A Cashier operates the cash register, scans goods and collects payment, issues receipts, change, or refunds, keeps report of all transactions, greets customers entering and leaving the establishment, and maintains tidy and clean checkout areas. A Cashier must be customer satisfaction-oriented and have strong communication, mathematical, and time-management skills.
Key Holder: A Key Holder is tasked to open and close the store. They handle operational procedures, assist cashiers, provide superior customer service, supervise the cleaning staff, set alarms, and keep the entrance area clean and well organized. They may also suggest changes in the working conditions and utilization of equipment to increase store efficiency.
Merchandise Handler: Merchandise Handlers work in production facilities and warehouses to move products. They wrap materials and put them on the truck, then pull materials off the truck and put them in their proper places. Merchandise Handlers work long hours and are constantly on their feet. They must be tough enough to move and lift boxes for the entire shift.
Stockroom Associate: Primary duties of a Stockroom Associate include filling and replenishing the sales floors with sellable items, retrieving items from the stockroom per customer requests, maintaining high customer service standards, keeping merchandise organized, handling shipments, monitoring inventory, preventing theft, and maintaining cleanliness and organization in the stockroom.
Store Supervisor: A Store Supervisor oversees the entire retail staff, making sure each team member carries out their duties efficiently. The supervisor is also responsible for scheduling expenditures, initiating corrective measures, analyzing variances, formulating pricing policies, and preparing an annual budget to meet the company's financial objectives.
Assistant Manager: An Assistant Manager oversees the sales staff and assists the Store Manager in executing store duties. Primary responsibilities include addressing and resolving customer complaints, conducting interviews, seeking new talents for hire, managing staff training, encouraging the achievement of sales goals, keeping all employees on their tasks, and ensuring the store operates smoothly and efficiently.
Store Manager: The role of the Store Manager is to run the business successfully. They are responsible for making sure the staff provide outstanding customer service and for monitoring the sales and financial performance of the retail store. Other responsibilities include recruiting, supervising, training, and appraising employees, maintaining financial and statistical records, handling customer issues, and managing budgets.
Inventory Specialist: An Inventory Specialist is responsible for maintaining records of store inventory, making sure that actual inventory and sales records match up. They produce regular inventory reports for the manager and keep all stocks organized, properly stored, and replenished as needed. If there are discrepancies or inconsistencies with the inventory, the Inventory Specialist reports it immediately to the managers.
E-Commerce Marketing Specialist: An Ecommerce Specialist helps in planning and implementing marketing campaigns to promote the company's products and services to customers online and thereby increase conversion. This role requires expert knowledge about SEO and SEM concepts, online campaign management, affiliate marketing, and various marketing strategies.
Papaya Clothing Application
Job seekers can submit their application through the company's career site where they can also view current job listings. They may also feel free to visit their local store to submit traditional paper applications.
Though there is an online application, the site offers no means to check the status of an application. Candidates must contact their desired location to speak directly with the hiring managers.
The online application for employment requires applicants to provide personal information, availability, employment history, educational background, and references. There is also a short questionnaire which candidates must answer honestly and impressively.
For better chances of hire, applicants must polish a resume that highlights any experience or trainings related to fashion retail. They should also gather information about prior employment and ensure contact information remains accurate and up-to-date.
During job interviews, demonstrating knowledge about the company and the retail fashion industry, as well as providing smart and confident responses to interview questions, will give aspirants greater odds of employment.
Things to Know About Papaya Clothing
Papaya Clothing cultivates a culture of teamwork and collaboration. Although there is not a lot of room for promotion, associates remain committed to their work and help create an enjoyable work environment.
The retailer welcomes collaborations with social media influencers. Interested bloggers simply need to send in their details. If chosen, they can receive up to $100 worth of merchandise monthly and be featured on the company's "Blogger's Pick" webpage.
Papaya Clothing is known for their wide selection of stylish clothes and trendy accessories aimed at mid-teen to late 20s age group. Since they are a manufacturer-direct business, they get to offer their products at a lower cost.
As the company caters mostly to younger generations, they have an active social media presence. Aside from the standard Twitter and Facebook accounts, the fashion retailer also manages Instagram and Pinterest accounts to reach out to more online customers.
Application Links
Company: http://www.papayaclothing.com/
Careers: http://www.papayaclothing.com/c/careers
Application: http://www.papayaclothing.com/c/careers?job=1