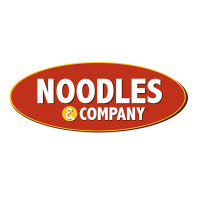 People who fill out a Noodles & Company application are looking to join a company that is over seven thousand strong and strives to give their customers fantastic pasta, salad, sandwich, and soup dishes.  Links to apply for jobs at Noodles & Company are at the bottom of the page.
Aaron Kennedy was a former marketing executive for the Pepsi Corporation when he came up with the idea of Noodles & Company in 1994.  The first restaurant was opened in the autumn in 1995 in Denver, Colorado, with another location being opened a year later in Madison, Wisconsin.  In 1996, a complete revamp of the restaurant was required after several bad reviews were published.
The revamp was successful and Noodles & Company exploded with growth, having thirty-seven locations in 2002.  By 2013, there were three hundred and thirty-nine locations scattered across the country.  That same year, the restaurant chain went public and had extremely good stock prices within the two days of going public.
Currently, Noodles & Company has over four hundred and fifty locations, only some of which are franchised, most are company owned.  They strive to offer healthy options with their twenty-five customizable menu options, offering endless combinations for their customers.
Noodles & Company Careers
At the corporate level, there are several positions available.  Based out of Broomfield, Colorado, all the jobs are either working with the local restaurants and making sure that all staff members are well trained, or making sure that the actual corporation is working and running smoothly.
Noodles & Company jobs at the local level are all about making sure that customers have a great experience and making sure that the restaurant meets and surpasses federal and state health requirements.  As there are restaurants scattered all across the United States, you could work in a location close to you.
How old do you have to be to work at Noodles & Company? Age requirements vary by job. As you look at Noodles & Company jobs online, make sure to read all of the position requirements carefully as some may require you to have various degrees or certifications.
Those with Noodles & Company careers do get benefits, however, they rely on what position you hold.  If you're working in the store, some employees get health insurance, paid time off, and fitness benefits.  Everyone with Noodles & Company jobs gets discounts on food and team members or their children are able to apply for various scholarships.
Noodles & Company Job Descriptions
Assistant General Manager – As you work closely with the General Manager, you'll help make sure that the store runs smoothly and efficiently.  When there are issues with customers, you'll work to make sure that everything is resolved.  Compensation is around $40,000 a year.
General Manager – With the help of the Assistant General Manager, you will delegate responsibilities to fellow managers and team members.  You'll make sure the restaurant is running properly and that it meets all federal, state, and company standards.  Compensation is around $45,000 a year.
Shift Manager – When you work your shift, you will make sure that everything is working as it should.  If the General Manager needs you to do anything during your shift, you'll make sure that it happens.  Compensation is around $30,000 a year.
Team Member – You'll take care of customers and make sure that they feel welcomed and comfortable.  When they order, you'll make sure that their food is made to their request while taking payment.  Compensation is around $20,000 a year.
Noodles & Company Interview Questions
These are some questions that you may be asked during your interview:
Why do you want to work for Noodles & Company? This is an extremely common interview question, so you should be prepared for it.  Talk about what drew you to the restaurant chain, whether it was company benefits or culture and why it's your first choice in places to work.
What experience do you have? Highlight all the relevant experience that you have. If you don't have any, talk about what you can bring to the company and the position instead.  Make sure to use plenty of examples to back up and support any claims you might make.
Where do you see yourself in the next few years? Your interviewer is trying to see if you're planning on sticking with the company. Be realistic in your career expectations, but make sure they know you're willing to work hard in order to move up in Noodles & Company.
As this company relies heavily on customer service, you may be asked this question in the form of a hypothetical situation: How would you take care of an upset customer? Be practical and realistic as you walk your interviewer through the steps you would take in order to turn the customer's experience around.
Every restaurant will most likely experience rushes throughout the day, so you may be asked: How do you react and work under pressure? Make sure to be honest.  Explain, to the best of your ability, your reaction.  If there's something about your reaction that you don't like, talk about how you're working on changing it.
Advice for Application Process
How to apply for Noodles & Company online: if you can't find the position that you're interested in, sign up their talent network, which will alert you when it's open.  If you have an actual position in mind, follow the second link and the instructions to fill out your Noodles & Company application.  If you can't find the store online that you want to apply to, go into the restaurant because not all store openings are available online.  There is no printable application for Noodles & Company.
Before attending your interview, do research on Noodles & Company and the industry in order to have a list of prepared questions that you can ask.  This may seem excessive, especially for an entry level position, but it will put you in front of the other candidates as it show that you think ahead.
Have a positive and friendly demeanor when you go in for your interview, it will give a good impression and show that you're ready for customer service.  Dress nicely in business casual, as you will be in a semi-formal setting.  If you've applied for a managerial or supervisory position, a suit would be more appropriate.
Make sure to show gratitude for the chance to interview with Noodles & Company.  Afterwards, inquire about the best way to check on your hiring status as some, but not all, applicants will learn if they got the job.  Noodles & Company will want to screen all candidates before making a final decision on who they hire.
Also See:
Shake Shack: For employment at Shake Shack visit the application page.
Pollo Campero: Checkout the application page for work at Pollo Campero.
A&W: Use the A&W job application to apply here.
Freebirds World Burrito: See this page for jobs at Freebirds World Burrito.
Potbelly Sandwich Works: For career opportunities, fill out the Potbelly Sandwich Works online application.
Company Links