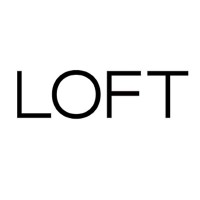 LOFT is an extension of the Ann Taylor brand that creates fresh, up-to-date, functional, and feminine clothing for the everyday woman. Their goal is to dress women to look good and feel confident throughout the day.
In 1996, Richard Liebeskind, Ann Taylor's founder, opened LOFT as a more casual and affordable extension of the brand. By 2004, they redirected their focus on their petite section. They also launched Loft.com as an alternative online shopping channel.
Today, the brand operates in over 500 stores throughout the US, employs over 10,000 people, and services thousands of in-store and online customers daily. They even created outlet stores to sell off-season and clearance items at very modest prices.
Full-time employees are afforded health care plans with medical, dental and vision coverage, life and disability insurance, as well as 401(k) retirement and stock purchase plans. The company also offers generous store discounts, paid vacation, and time-offs.
The company is committed to empowering women not only in the workplace, but in the community surrounding them as well. This passion is translated to equal opportunities and growth possibilities to women joining the team.
How old do you have to be to work at LOFT?
Interested applicants must be at least 18 years old to join LOFT. A high school diploma or GED equivalent is preferred but not required, especially for most entry-level positions. 
LOFT Careers
There's a large number of locations and job opportunities with the brand. Most entry-level positions though are in store sales settings. Here are some positions available in their retail stores and corporate offices:
Sales Associate: Sales associates mainly handle end-to-end customer support. They assist customers with their inquiries, help in handling the register, and keep the store well-stocked, well maintained, and clean at all times. They also help build and maintain loyal relationships with clients.
Sales Lead: A sales lead operates as the manager on duty in the absence of a manager. They perform operational and transactional functions, handle customer service issues, and assist in driving store revenue. In addition, they monitor and provide feedback to associates to ensure excellent customer service.
Co-Manager: Leads and directs all activities required to achieve all store goals including sales objectives, client experience, expense management, and loss prevention. They develop, train, and motivate associates to accomplish these objectives. They carry out the necessary corrective action for non-compliance with company policies and procedures.
Data Coordinator: Provides administrative and other ad hoc support to the Sourcing group. They assist with the purchase order process and work together with the Merchandising and Merchandise Planning groups for PO creation and adjustments. A bachelor's degree in a related field of study and at least a year of work experience in sourcing and data entry is a must.
Assistant Designer: An assistant designer helps make decisions on colors, setting the right mood for the season. They help develop the product line from concept to design by providing creative input through shape, cut, and fabric proposals. They make up sample cards and trend boards, chase fabric samples, and cut patterns.
Assistant Merchandiser: Manages daily merchandising activities including building, editing, and maintaining assortment sheets, reconciling receipts, and maintaining sample accuracy and handoff. They analyze retail and business trends and recommend buying strategies for the company. They partner with other departments for effective execution of departmental strategies.
Associate Manager, Social Media: Develops social media content strategies and executes campaigns for the brand. They work closely with brand marketing and editorial teams to ensure that all communications convey the brand idea with a strong social content. A bachelor's degree and approximately two years of work experience in social media or digital strategy is required.
Digital Marketing: Responsible for developing the company's online marketing strategy. They utilize tools and techniques such as social media and email marketing to launch online promotions, mailing campaigns, and other activities to reach customers. Having at least two years of work experience in digital strategy is required. A bachelor's degree is also necessary to qualify for this position.
Sourcing Coordinator: Supports the Sourcing group in carrying out their functions. They assist in processing purchase order requests and revisions, including sample tracking and Zymmetry system maintenance. A bachelor's degree in a related field of study and a year of work experience in sourcing and data entry is a must.
Merchandise Analyst: A merchandise analyst assists the Inventory Management team by effectively allocating products to stores and ensuring that the allocated inventory will support the store's sales demands. They partner with various teams on inventory management, balancing recommendations, and service level reviews.
LOFT Application
There are several options to get a job with the company. You can either visit any of their stores and apply or check out their website's Careers page for open posts.
For online applications, you can choose to view all postings or search by filtering results by career, location, or type. Once you find a job you like, click on it and you'll be redirected to a page containing its specifics.
The information sheet is important, even if you already have a resume. Carefully provide all the requested details and check for any mistakes before uploading the form.
Entry-level applicants should highlight previous retail or customer service experience in their resume. Those without any job experience should list all skills or competencies that can make them successful in the role they're applying for.
During the interview, make sure to convey your interest in fashion and retail merchandise. You should also share your familiarity with the company's offerings and exhibit dedication to the industry.
Things To Know About LOFT
"Inspiring. Connecting. Growing." LOFT believes that women live complicated lives but value the same thing: to live and fulfill all their roles with confidence and style. The company inspires their employees to always put their best selves forward.
In 2014, the Ann Taylor Group committed to empowering 100,000 women in the company's global supply chain community. They partnered with BSR's HERProject campaign, an initiative that strives to support low-income women by providing health and/or financial literacy trainings.
LOFT gets women—real women who have real needs. The brand serves head-to-toe outfits at an incredible value which makes getting dressed effortless. These outfits represent who they are and the world they live in.
Give Back Box is an initiative launched in collaboration with Goodwill. Store customers are given the opportunity to donate used clothes and household items, which will be distributed by Goodwill to those in need.
Application Links
Company: https://www.loft.com/
Careers: https://www.anncareers.com/loft/
Application: N/A