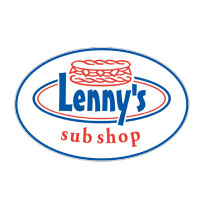 As you fill out a Lenny's Sub Shop application, know that you're striving to join a company that looks for great employees to support the company and make their food.  Currently, they have a strong Southeast United States presence, but they're working on going nationwide.  Links to apply for jobs at Lenny's Sub Shop are at the bottom of the page.
Sheila and Len Moore opened the first Lenny's Sub Shop in 1998 just outside of Memphis, Tennessee and quickly grew, adding four locations within a year.  Three years later, Lenny's Sub Shop granted their first franchisee a shop in 2001.  Although they have a strong hold in the Southeastern United States, the company is spreading out, with three stores in Michigan.
Lenny's Sub Shop is known for their subs, both hot and cold.  For those that want to be on the healthier side, the company also offers several different salads.  Everything is made to order for the customer, with the meat being sliced in the store for that extra freshness.
Although Lenny's Sub Shop stretches from North Carolina to Texas and from Florida to Michigan, all franchise owners look for the same qualities in all of their applicants.  In order to get the best of the best, they pick through all of the applicants to find people that best exemplify the company's personality, like dependability and a positive service attitude, among others.
Lenny's Sub Shop Careers
If you're interested in corporate level Lenny's Sub Shop careers, follow the third link below and then the instructions.  Most positions are geared towards making sure that corporate systems are working properly or that franchises are meeting their expected goals with minimal issues.
All local level Lenny's Sub Shop jobs are available at franchises, the corporate level has very little to do with the employees.  Franchisees are trained in how to run and own a franchise before they take over the restaurants and are supported by operating and marketing advisors to make sure that everything works properly.
How old do you have to be to work at Lenny's Sub Shop? Age requirements vary by job.  As you look at Lenny's Sub Shop jobs online, make sure to read all job requirements closely as some positions require various experiences or certifications.
As Lenny's Sub Shop local stores are run by franchisees, store hours vary by location.  In order for customers to know what the hours are, they need to either look online or call the store phone numbers that are listed on the website.
Lenny's Sub Shop Job Descriptions
Sandwich Dresser – Guests will communicate with you so that you can prepare their sandwich to their specifications.  In order to keep costs down, you'll need to know company portions to make sure that you don't spill too many things on the counters as you'll have to make sure that those remain clear.  Compensation is around $20,000 a year.
Cashier – Being friendly and helpful with guests is a big part of this job as you efficiently and precisely enter orders to take payment.  When needed, you will help clean the dining room and deliver food to guests.  Compensation is around $20,000 a year.
Delivery Driver/Marketing – When catering calls come in, you are the one to deliver the food in a positive and friendly manner.  As needed, you will market for the company, handing out coupons and samples to drum up business to meet sales goals and shop objectives.  Compensation is around $40,000 a year.
General Manager – You are responsible and accountable for all shop activities, profitability, and operations.  By helping to establish excellent customer service, you will be an example to your staff as you oversee shop operations.  Compensation is around $45,000 a year.
Cook – By maintaining a clean and organized kitchen, you're meeting state, federal, and company standards while you turn out hot sandwiches and salads to order.  You'll make sure that all dishes that leave your kitchen are properly portioned and presented.  Compensation is around $20,000 a year.
Lenny's Sub Shop Interview Questions
These are some questions that you may be asked during your interview:
Why do you want to work for Lenny's Sub Shop? This is an extremely common interview question, so you should be prepared for it.  Talk about what drew you to the company, whether it was the company culture or benefits and why it's your first choice in places to work.
What experience do you have? Highlight all of your relevant experience.  If you don't have any experience, talk about what you can bring and offer to the company instead.  Make sure to use plenty of examples to enhance and back up your claims.
Where do you see yourself in the next few years? Your interviewer is looking to see if you plan on staying with the company.  Be realistic in your career expectations, but make sure that your interviewer knows that you're willing to take on extra challenges and responsibilities in order to move up in the company.
As this company relies heavily on customer service, you may be asked this question in the form of a hypothetical situation: How would you take care of an upset customer? Be realistic and practical as you explain exactly what you would do in order to turn the customer's experience around.
Some positions require driving, so if you've applied for one of those positions, you may be asked: What is your driving record like and do you hold a valid license? Be honest, the company wants to make sure that you'll reach your destination with their products safely.
Advice for the Application Process
How to apply for Lenny's Sub Shop online: first decide if you're applying for a corporate or local position or if you want to be a franchise owner.  Once you've decided that, follow the appropriate link to your destination.  If you're applying for a local position, make sure to read all the position requirements closely before filling out your Lenny's Sub Shop application.  There is no separate printable application for Lenny's Sub Shop listed on the website.  The local application on the website may be printed out and handed in over the counter.
Before attending your interview, do research on Lenny's Sub Shop and the industry to have a list of questions prepared to ask at your interview.  This may seem excessive, especially for an entry level position, but it will show that you think ahead and place you in front of your other candidates.
Dress appropriately for your interview in a semi-formal outfit at the very least.  If you've applied for a managerial or supervisory position, business casual works, but a suit is more appropriate.  Have a positive and friendly demeanor when you attend your interview as it will give a good impression and show that you're already thinking about customer service.
Make sure to show gratitude at the opportunity to interview with Lenny's Sub Shop.  After your interview, inquire about the best way to check on your hiring status.  Only some applicants will learn if they got the position during the interview as Lenny's Sub Shop will want to screen all candidates before making a final decision.
Also See:
Checkers Drive In: See our resource page for more information on Checkers Drive In careers.
Popeyes: For employment at Popeyes visit the application page.
Long John Silver's: Use the Long John Silver's job application to apply here.
Cousins Subs: Visit the Cousins Subs application.
Moe's Southwest Grill: See our resource page for more information on Moe's Southwest Grill careers.
Company Links
http://www.lennysfranchise.com/
http://www.lennys.com/careers/
http://www.lennys.com/about-lennys/career-opportunities/corporate-opportunities.cfm