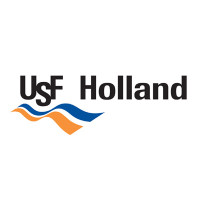 Those who fill out and submit a Holland USF application, are looking to join a company that strives to offer their employees a great and stable place to work while offering them promotions from within the company.  Links to apply for jobs at Holland USF are at the bottom of the page.
In Holland, Michigan in 1929, Holland USF was started. Although they were a small company, they grew, before being bought out by TNT Ltd in 1985.  In 1996, they changed their name to USF.  With the arrival of 2005, Holland USF found themselves changing hands again, this time winding up with YRC Worldwide.
Currently, Holland USF covers twelve states in the United States and two provinces in Canada; but they have steadily been expanding, working their way farther south.  The company runs over fifty distribution centers, has over four thousand trailers, and well over eight thousand employees.
Although they currently cover a relatively small area, Holland USF is known for their quick shipping services with extremely low claim rates.  They will transport almost anything, within a lawful limit, and strive to offer their customers outstanding customer service.
Holland USF Careers
Holland USF jobs at the corporate level are based out of Holland, Michigan, and tend to be geared towards customers getting outstanding service while making sure that everything is working smoothly.  At their office, there is also a distribution center, so drivers can head out and do their job.
Locally, Holland USF careers cover the Midwest, central Southern United States, and two provinces in Canada.  In a number of those offices, there are office staff members, drivers, and mechanics, all geared towards giving customers excellent service and insuring that everything is reaching its destination safely.
How old do you have to be to work at Holland USF? Generally, you must be over the age of eighteen to work for this company, especially in the docks area.  As you browse Holland USF jobs online, make sure to read all the position needs carefully because some may require various degrees, certifications, or experiences.
People with Holland USF jobs get a number of benefits, including a selection of benefits packages to choose from.  Because the company strives to maintain and recognize outstanding employees, often retaining employees an average of fifteen years.
Holland USF Job Descriptions
Dock Worker – As trucks roll in and out you'll work to load and unload their trailers, making sure that the proper products and merchandise are going on the correct vehicles.  Maintaining a clean and organized work area is key.  You will earn $11.90 an hour.
Driver – You will run a commercial vehicle and make sure that everything reaches its destination safely.  When you arrive at your destination, you'll load and unload the truck before moving the product to the customer's requested location in the building.  Compensation is around $45,000 a year.
Mechanic – As needed, you will look at and inspect the trucks to make sure that everything is working well.  When necessary, you'll do repairs on the trucks and trailers to keep them running for as long as possible.  Compensation is around $30,000 a year.
Office Administrator – You'll work to input data in a quick and timely manner while striving to maintain a close team environment. When customers call, you will be the one to answer and work with customers to give them outstanding service. Compensation is around $35,000 a year.
Operations Supervisor – In order to keep everything running smoothly, you will supervise and coordinate all of the Dock Workers and various support staff.  Being able to communicate with all levels of the company is a must.  Compensation is around $35,000 a year.
Weight & Inspection Coordinator – In order to make sure that all shipments work with federal and state laws, you'll gather various documents and communicate with the customers to make sure that everything is legal and will face little to no issues for shipping.  Compensation is around $35,000 a year.
Holland USF Interview Questions
These are some questions you may be asked during your interview:
Why do you want to work for Holland USF? This is an extremely common interview question, so you should be prepared for it. Talk about what drew you to the company, whether it was the culture or benefits and why it's your first choice in places to work.
What experience do you have? Highlight all of your relevant experience.  If you don't have any, talk about what you can bring to the position and offer the company.  Make sure to use plenty of examples to back up and support any claims that you may make.
Where do you see yourself in the next few years?  Your interviewer wants to know if you see yourself with the company.  Talk about how you're willing to take on extra challenges and responsibilities in order to move up in the company, being realistic in your career expectations.
Some positions require lots of driving, so you will probably be asked: Do you have a good driving record and a valid license? Make sure to be honest and talk about anything that may be on your record.  If you have an accident or ticket or your record, explain what led to that happening.
A number of jobs require you to stand for long periods of time or to carry heavy objects, so you may be asked: Is there anything that could stop you from doing your job? If you're straightforward with the company, they'll probably work with you.  Talk about anything that could stop you from doing your job, and how you're working your way around it.
Advice for the Application Process
How to apply for Holland USF online: decide which division of the company you would like to work in.  Then, search for the position that you would like hold in the location that you live in or near.  Once you've found it, read through all the position needs carefully before submitting your Holland USF application.  There is no printable application for Holland USF available on their website.
Before attending your interview, do research on Holland USF and the industry in order to create a list of questions that you can ask.  For an entry level position, this may seem excessive, but it will place you above the other candidates as it shows that you think ahead and are prepared.
Your interview will probably take place in a semi-formal setting so dress appropriately in business casual.  If you've applied for a managerial or supervisory position, a suit would be acceptable.  Have a positive and friendly demeanor when you go in for your interview because it will give a good impression.
Show gratitude at the opportunity to interview with Holland USF.  After your interview, inquire about the best way to check on your hiring status.  Very few applicants will learn if they got the job during their interview because Holland USF will want to screen all candidates before making a final decision on who they hire.
Also See:
Tesoro: See our guide for careers at Tesoro.
McMaster-Carr: Visit the job application for McMaster-Carr to apply today.
Comed: See our resource page for more information on Comed careers.
Consolidated Edison: Consolidated Edison offers opportunities for both, beginners and experienced roles.
ABF Freight System: See this page for jobs at ABF Freight System.
Company Links
http://www.hollandregional.com/careers/
https://holland-yrcw.icims.com/jobs/intro?amp%3Bhashed=0&mobile=false&width=750&height=500&bga=true&needsRedirect=false&jan1offset=-300&jun1offset=-240