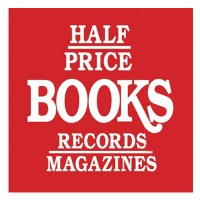 Half Price Books is a family-owned bookstore chain that sells used and new books, as well as records, movies, magazines, collectibles, CDs, DVDs, and video games. Its headquarters is located in Dallas, Texas.
The company was founded in 1972 by Pat Anderson and Ken Gjemre. The first store was opened in a former laundromat where they filled the shelves with roughly 2,000 books from their own personal libraries.
The bookstore chain currently operates more than 120 stores in about 17 states. Many of the used products sold in the stores are bought from local residents.
Aside from receiving excellent discounts on merchandise and priority on newly acquired items, employees enjoy generous healthcare benefits including medical, dental, and vision coverage, 401(k) retirement plans, and bonuses based on sales volume.
Anyone who has great appreciation for books, music, and films will certainly love working for the company. Aside from sharing the same interests, employees have a positive attitude and good work ethics.
How old do you have to be to work at Half Price Books?
Applicants must stand at least 18 years old to apply at Half Price Books. The company's hours of operation are: 10:00am to 10:00pm (Monday-Saturday); 10:00am to 8:00pm (Sunday).
Half Price Books Careers
Some locations accept 16-year-olds for entry-level positions. Educational attainments with prior experience in the retail industry remain preferred. However, credentials are often unnecessary to be considered for employment with the bookstore retail chain.
Bookseller: Booksellers assist customers in finding paperbacks, hardbacks, magazines, or other items that they're looking for. They may also be tasked to operate the cash register, maintain inventory, and purchase used items for reselling. This position requires strong customer service and organizational skills.
Cashier: The Cashier manages all cash transactions in the bookstore and solves all cash-related queries. Daily tasks include maintaining and balancing accounts, checking the cash balance, interacting with customers in a friendly and professional manner, and reporting any discrepancies in the accounts to the managers.
Bookstore Clerk: A Bookstore Clerk greets customers, takes inventories, organizes books, and other products in the store, maintains book databases, and assists customers in locating the books or items they're looking for. A Bookstore Clerk must have keen attention to details and good customer service, multitasking, and organizational skills.
Sales Associate: A Sales Associate renders assistance to customers, answers their queries about products and services, and keeps the shelves organized and filled with books and other items. They must have excellent product knowledge and strong communication and customer service skills. They must also be able to use effective selling strategies to drives more sales.
Stock Associate: A Stock Associate unloads merchandise from the delivery truck and scan the items into a system for purpose of inventory. They label or put sales tags on the products and replenish the shelves that need restocking. A Stock Associate keeps the stockroom clean and organized so other workers can easily and quickly find what the customers need.
Shift Leader: The Shift Leader is responsible for keeping the smooth flow of everyday store operations. He provides support and assistance to his subordinates and directs them through their daily routines. He is also responsible for making sure all employees are present and the store is adequately staffed.
Assistant Manager: The primary duties of an Assistant Store Manager are to ensure that customers receive high levels of service and that all store policies and procedures are followed. This individual organizes, plans, and assigns tasks to employees, attends to customer inquiries, and assists them with their purchases, returns, or refund requests.
Store Manager: The Store Manager oversees the operations of the bookstore, including purchasing of books and supplies, shipping and receiving, special orders, and return of defective or overstocked merchandise. This manager supervises the staff and is responsible for hiring, training, evaluating, and firing employees. He also prepares the bookstore budget and implements operating procedures and policies.
Business Analyst: Companies achieve their goals by developing projects or programs that translate consumer needs into new services, products, and consequently new sources of profit. Business analysts help in this endeavor by determining the requirements of those projects and communicating them effectively to the stakeholders or facilitators.
Financial Analyst: A Financial Analyst is responsible for the financial analysis and reporting, and the day-to-day ledger accounting and reconciliation. They analyze financial data to ensure compliance to accounting procedures. If there are improprieties and inconsistencies, the Financial Analyst reports them immediately to the General Manager.
Half Price Books Application
Candidates can download and fill out the application available at the company's job site. They will be asked to provide their personal data, educational background, employment history, and references, and answer a questionnaire to evaluate their abilities.
Applicants may visit the company's site to view the current job openings and express their intent to apply. Through this, they may also gain a general idea of what the store is looking for in a candidate.
Applicants should take the accomplished form to their desired location. When submitting their application, aspirants may politely ask to speak with the management to increase their chances for an interview.
An effective resume is fundamental in the success of application. It should detail the applicant's skills, abilities, work experiences, and other pertinent information that will suggest suitability for the desired position.
During job interviews, candidates can ask relevant questions to demonstrate conscientious behavior, as well as to improve their knowledge of the business. Doing so will also indicate earnest interest in joining the team.
Things to Know About Half Price Books
Half Price Books is a place where bibliomaniacs come together. Though corporate culture has taken over the stores, employees maintain their concern for the environment and their belief in the importance of printed books.
The bookstore chain has recently donated books to non-profit organizations across the globe, including American Red Cross and Feed the Children. The chain has also managed to open more stores despite the proliferation of digital media.
The chain is known for their low-priced books and philanthropic endeavors. Aside from collecting new and used books from local residents, they also print and publish books under their publishing brand, Hackberry Press.
In an effort to promote literacy in the community, Half Price Books offers 10% discount to librarians and teachers year-round. They also hold a yearly book drive to amass new and used children's book to build "Half Pint Libraries."
Application Links
Company: https://www.hpb.com/home
Careers: https://hpb.applicantpool.com/jobs/
Application: N/A