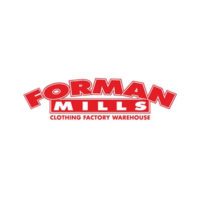 Forman Mills is a department store, and they sell designer looks in clothing, sportswear, and home goods. You can find everything from men & women's fashions to auto accessories, sheet sets, and beach toys.
Rick Forman started selling t-shirts and sportswear on the weekends at a "flea market" in 1977. He was so successful that he was able to open his own store in 1981. The first warehouse store of the type we know today opened in 1985.
They have more than 30 locations on the Eastern Seaboard, and has over 3000 employees. In 2014, CEO Rick Forman went on the show "Undercover Boss" to see how he could best expand. The chain was sold the next year to Goode Partners, LLC.
Full-time employees are eligible for health insurance and 401K. All employees get sick days, paid time off, and perks such as free lunch and a 10% employee discount.
This is a great place when you're starting out, to get valuable work training and experience. Hours are flexible, which is good if you're still in school. Employees say that they like their coworkers, which makes it a better place to work.
How Old Do You Have to be to Work At Forman Mills?
You should be at least 16 years old to apply. The corporate application form asks if you are over 18 or not, so that may be an additional requirement.
Forman Mills Careers
There are many different types of careers available in their retail stores and in the Distribution Center. There is also a corporate office for executive level jobs.  The stores are near the NY Fashion District, so even at the corporate level there is minimal traveling involved.
Door Guard-Greeter: The Door Guard-Greeter makes sure that customers are directed to where they need to go. If they have packages, they're shown where to check them in. They also work with Loss Prevention by checking employee purchase receipts.
Cashier/Customer Service: The Cashier greets the customers when they come to the register, rings up the order, and then bags the merchandise. Between customers, they will help replenish the stock on the sales floor.
Loss Prevention Agent (Security): This position will apprehend shoplifters, watch for signs of internal (employee) theft, and report violations of corporate operational standards. They audit compliance of external standards and make recommendations.
Merchandise Processor: The merchandise processor removes all merchandise from the cartons, tags them, and puts any clothes on hangers for display. They must be able to safely use a box cutter. This is a fast-paced job with a lot of repetitive movements.
Receiver/Shipper: The receiver/shipper works at the Distribution Center. They are responsible for verifying the carton counts when unloading the trucks from the suppliers, and reporting any discrepancies. They also load trucks that are headed to the individual stores.
Maintenance Worker (Custodian): They perform maintenance and housekeeping duties such as sweeping and mopping floors, trash removal, parking lot, and setting and removing fixtures and displays when required. They have daily duties, as well as handling emergency cleanup and repairs.
Shift Supervisor: The Shift Supervisor assists the customers if there is an issue that the customer service staff can't help with. They make sure that merchandise remains replenished on the sales floor. Reports if inventory is getting low to the Department Manager.
Assistant Store Manager: The Assistant Store Managers are responsible for the overall operations of the store during their shift. They train employees, assist in the hiring, help maintain customer service standards, monitor inventory, and more.
Department Manager: The Department Manager implements the company's merchandising directive (planogram), and sets the ad signs and merchandise presentation. They provide hands-on training for the sales employees, in safety as well as store operation.
Assistant Buyer: Assists the Buyer with product planning and allocation, distribution, and analysis for inventory and marketing. Entry level Buyer training, should have experience working in a retail environment.
Forman Mills Application
From the Careers page on the website, there's a link that takes you to their jobs forms. You first create a profile, and then you can see what jobs are available. External job site listings all lead back to the Forman Mills application page.
All applications are completed online. They have you create a profile so that applying to more than one store location will be faster and easier.  You can keep it updated in case you'd like to apply for a different position within the company later.
Some employees have reported that they were asked to fill out a paper application when they arrived for their interview. Just in case, you should bring a pen and your info about your experience and references.
If you're applying for a corporate job, you will again start out by filling out an online application. You can also bring in a printed resume at the time of your interview. Make sure it's updated in a modern format. There are also professional resume services that can look at it for you.
Interview questions range from personal, like "Tell me about yourself", to on-the-job questions like "Have you ever worked a cash register" and "how would you handle an upset customer". Think about the duties that were listed on the job description, and imagine what how you would handle it.
Facts About Forman Mills
Running a large corporation like a "mom and pop" store can have its up sides and it's down sides, so they've made some changes such as creating a Forman University to make sure all employees have complete and consistent training.
The stores all stay in touch with their local communities, like the Project Uniform at Forman Mills –– Dressing Kids 4 Success" initiative in Michigan. Started in 2010, it's a program where they give away vouchers for free school uniforms.
The company is known for quality products at great prices. The founder like to keep it simple, while still expanding the product like beyond his original "t's and sweats". Great customer service is always a goal at each location.
Forman Mill's social media page is full of posts not only about the sales that they're having, but also charity events, open casting at the corporate office to hire "real" people as clothing models, and announcements about technology upgrades that will make the shopping experience easier and quicker.
COMPANY LINKS