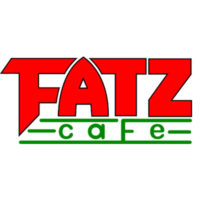 Fatz Café is a restaurant specializing in Southern cuisine. In addition to in-restaurant dining, they also offer catering services for events, and to-go catered dishes for game-day tailgating.
The first café opened in 1988 by Jimmy Rogers and Bill Burton in a converted peach shed, a fact that they're so proud of that it's mentioned in nearly every article about the company!  They were told that just two partners could succeed in building up a large corporation, but they proved them wrong.
The company has over 40 cafes across several states. Located primarily in suburban areas, they employee nearly 5000 people. They were included in the "Top 50 Chains Under 50 Units" list by Chain Leader magazine in 2008.
The restaurant offers great employee discounts on meals. Health benefits are only offered to full-time employees, usually at the management level and above. Company does not match 401K deposits, but they are offered.
Overall the store has a feel like they're family, so most employees say that one of their favorite things about working there is their coworkers. The servers like the tips, because you take home cash every night.
How Old Do You Have to be to Work At Fatz Cafe?
Servers at Fatz must be over the age of 18, due to the fact that they're serving alcohol. For other positions you should be at least 14 according to Federal law, but most managers prefer you to be 16. Check with some of the employees at your local Café to be sure.
Fatz Cafe Careers
The following is a list of positions that are available at Fatz Cafe. Some jobs tend to be combined, such as prep/line cook and server/bartender. Such combinations will be posted in the job listing.
Server: A server (waitress) is assigned a certain number of tables, and is responsible for assisting all customers in that area. They bring glasses of water and menus, take the food orders, deliver the food, and accommodate customer special requests.
Bartender: A bartender usually stays behind the bar while working. They receive the drink orders from the servers and mix them. Then the drinks are set on the bar in groups so that they can be delivered to the customers.  Some customers come to the bar to sit, so the bartender will take their orders.
Hostess: A hostess greats the customers with a smile as soon as they come in. They lead the guests to their tables, give them their menus, and lets them know who their server will be.  When it's slow, a server may act as hostess.
Line Cook: A line cook is one that prepares food orders according to set recipes furnished by the restaurant. They don't generally create their own special dishes. Speed is usually something managers look for in this job.
Prep: "Prep" is short for "preparation", and the prep cook generally starts work earlier than the others. They chop vegetables and grind meat, as well as weighing and mixing ingredients for the recipes in accordance with instructions from the cook.
Kitchen Manager: The Kitchen Manager is responsible for the back-end area. They hire staff, purchase food and stock, and train the kitchen staff. This includes safety techniques in addition to cooking and cleaning.
Assistant Manager (Supervisor): The supervisor manages the flow of the restaurant during their shift. They're responsible for insuring that guests gets their food properly and on time. They also handle customer complaints, and deal with training and discipline of staff.
General Manager: The General Manager ensures that the restaurant has enough staff to properly serve customers, oversee ordering of stock and equipment, making sure invoices are up-to-date, maintaining records, inventory and other paperwork, ect. Sometimes they're also the Kitchen Manager.
Recruiter: In most of the restaurants, the Managers are in charge of hiring their own staff. Recruiters at Fatz mainly focus on attracting qualified managers for the cafes and executive personnel for the corporate offices.
Sales Executive: A sales executive is a point of contact between the restaurants and vendors who provide food, linen, tableware, and other products needed. For large catering events, they may organize things like kitchen tours for potential clients.
Fatz Application
To apply for a job at Fatz, first fill out an application. Before you schedule an interview, make sure you have your I9 documentation authorizing you to work in the United States ready.
You can fill out the online application on their website. They also have an application that you can download and print. You can bring the completed application to the location of your choice Monday-Friday, 2-5 pm.
Online, you can choose more than one location to apply to, all at once. The application also asks if you are able to be on your feet for 5-6 hours at a time, as the job requires.
For management positions, there is a link on the website to email them your resume. Make sure it is up-to-date. Fatz Café encourages experienced operators to send in their resumes even if there are no jobs posted.
Reported interview questions include "Have you ever been a server", "What do you bring to the team", and "Can you upsell". Be prepared to tell the manager why you shine at each task you may be asked to do.
Facts About Fatz Cafe
Most employees find their coworkers and supervisors to be friendly and helpful, in keeping with the family atmosphere. Provides a sense of teamwork to make sure everyone's happy.
They often make the local news for contributions to the community. For instance, they offer free Calabash Chicken to retired and active military members on each Veteran's Day.
Fatz Café prides itself on bring back good ol' Southern Hospitality back to casual dining, treating it's guests like they're coming "home" to a family dinner.
The company keeps their communities informed through active feeds on Facebook, Twitter, Instagram, and others. There are in-store events and specials on almost every holiday. They have an email address listed for people to submit their Fatz stories.
COMPANY LINKS