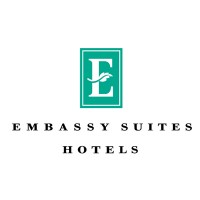 Embassy Suites by Hilton Hotels is an all-suite hotel franchise offering guests an upscale quality in accommodations, amenities, and services. As part of Hilton's leading hospitality chain of hotels, the franchise contributes to providing outstanding guest services across the globe.
Established in 1984, Holiday Corporation handled operations, until ownership was transferred to Promus Companies Corp. by 1990. The hotel chain then became an official Hilton trademark after completing the big merger with the Hilton Hotels Corp.
The hotel chain currently has 245 unique locations offering over 690,000 rooms in the United States, Canada, Latin America, and the Caribbean region. Following the Hilton tradition, most of their branches are independently operated by franchise owners.
Employees have access to the best training courses designed for developing industry-leading professionals. They enjoy various benefits such as a 401K savings plan, worldwide health plan, welfare benefit plan, and hotel discounts on all products and services.
The Hilton branding enables team members to get a head start on their career in the hospitality sector. As a rapidly growing hotel chain, there are endless opportunities for employees to explore other positions in the organization.
How old do you have to be to work at Embassy Suites by Hilton Hotels?
To apply for a part-time or full-time position in any of the hotel's departments, you must meet the minimum legal age requirement of 18 years old. However, some states may allow working permits for applicants under 18.
Embassy Suites by Hilton Hotels Careers
Embassy Suites by Hilton Hotels offers a wide range of positions encompassing every facet of hotel operations which include but aren't limited to housekeeping, food and beverage, maintenance, front desk, and human resources. For a quick reference, here's a list of commonly featured jobs at Embassy Suites:
Guest Services Agent: A Guest Services Agent is responsible for facilitating guest registrations and room assignments. Agents are expected to handle inquiries, complaints, and other requests made by guests in a professional and friendly manner. They are also expected to demonstrate a complete knowledge of hotel services, packages, and promotions.
Server: A Food Server is primarily responsible for accommodating guests by bringing food and/or beverages in a timely, and effective manner. This position also requires a strong knowledge of the menu and restaurant promotions as well as the aptitude for ensuring the guest's satisfaction throughout the dining experience.
Suite Attendant: A Suite Attendant shall attend to the cleanliness of guest rooms and replenishing of amenities as deemed necessary. They are responsible for monitoring housekeeping supplies and waste disposal daily. When requested, they must also promptly address special requests on behalf of the hotel guests.
Breakfast Attendant: A Breakfast Attendant is responsible for maintaining the turnover of the buffet stations to ensure guest satisfaction towards the complimentary breakfast services. They are also expected to assist other food and service crews through cleaning immediate work areas, replenishing food lines and amenities, and addressing guest concerns whenever elicited.
Engineer/Painter: An Engineer is responsible for ensuring the functionality and safety of all hotel areas and guest facilities in coordination with assigned team members. They must be able to respond to guest concerns, perform any necessary repairs, and keep record of maintenance needs—all in a timely and efficient manner.
Cook: A Cook is responsible for food production, quality control of food items, and sanitation in all kitchen stations. They shall ensure that all recipes and stock ingredients used are kept in accordance with established menu standards and health regulations.
Food and Beverage Attendant: A Food and Beverage Attendant shall be responsible for managing the inventory of the food and beverage service in the Executive Lounge. They are expected to commit to side work such as preparing and replenishing kitchenware, reorganizing the lounge set-up accordingly, and carefully monitoring the condition of all inventory including the coffee machine, grinder, condiments, and bar essentials.
Linen Runner: A Linen Runner shall be responsible for supplying guest rooms and dining outlets with clean linens appropriate for the facility. They will be expected to be the administrative lead in maintaining linen inventory by dispatching, restocking, and maintaining record in accordance with day-to-day requirements.
Bellperson: A Bellperson is responsible for assisting guests and transporting their luggage to and from their respective accommodations. They should be able to drive hotel-designated vehicles for special transport of guests to specific locations such as the airport. Furthermore, they are expected to ensure that all feedback and issues are to the concerned departments.
Front Office Manager: A Front Office Manager is a leadership role responsible for managing all front office operations in accordance with the goal to provide outstanding guest service and increase the Hilton brand's financial profitability. They shall monitor and implement key programs inclusive of but not limited to team member performance, quality control, sales revenue, recruitment, and hotel promotions.
Embassy Suites by Hilton Hotels Application
Embassy Suites by Hilton Hotels offers an online career portal where candidates can apply for open positions located across regional branches. To apply for any position, simply open a Hilton account and submit your profile details, cover letter, and resume.
Applicants may also choose to apply directly at their preferred location for a better chance of interacting with hiring managers. Expect a waiting period of at least one week before receiving any confirmation due to the large volume of applicants.
When filling up your application form, discuss your background in detail. Apply for a local area near you. While customer service roles are more lenient, managerial positions require you to have proven working experience in the hospitality industry.
Hiring managers will be looking for individuals who have an aptitude for customer service. Try to include your accomplishments in this aspect by specifically discussing them in the job experience, skills, or certifications portion of your resume.
The interview questions will mostly highlight your past experiences. Hiring managers will be evaluating your ability to interact with guests in a professional manner. Pay attention to how you greet and talk with others by practicing in the mirror beforehand.
Things to Know About Embassy Suites by Hilton Hotels
Embassy Suites by Hilton Hotels actively fosters a corporate culture that acknowledges the contribution of individual members in promoting open communication, community service, and shared success.
This productive and healthy culture is credited to have helped pave the way leading to the Embassy Suite franchise's award as one of the best performers under the Hilton's All Suites Brand in 2017.
The all-suite hotel continues to build on their image as a unique hospitality brand that offers superior guest services, complimentary offerings, and a luxurious appeal—all for a price range that runs at the middle of the industry average.
Alongside its many community projects in collaboration with local organizations, Embassy Suites has been recognized for its leading position in sustainability initiatives such as for launching the largest soap recycling program in the industry.
Application Links
Company: http://embassysuites3.hilton.com/en/index.html
Careers: https://jobs.hilton.com/our-brands/embassy-suites.php
Application: N/A