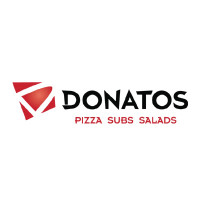 Donatos Pizza is a chain of delivery-based restaurants that primarily operates in Ohio in the United States.  To see what career paths are open to you and to find out how to apply for Donatos Pizza online, follow the link at the bottom of the page to get started on your Donatos Pizza application.
The very first restaurant was opened under that name in 1963 when it was bought out by Jim Grote.  Today, although the restaurant has gone through some ownership changes over the years, it is owned by Jim Grote and his daughter Jane Abell.  The company headquarters are located in Gahanna in Columbus, Ohio.
There are now over 200 different locations although most of them are still to be found in Ohio.  In addition to this, they also expanded their business into pizzas that you can buy in supermarkets and take home.  The line is called Take and Bake and can currently be found in some locations of Walmart.
You can find what you would expect at the restaurants and more.  They serve pizzas with a wide range of toppings including old favorites and some new variations.  They are mostly known for serving up their pizzas on a thin and crispy base and topped off with their signature Edge-to-Edge toppings.
Donatos Pizza Careers
There are many job opportunities with Donatos Pizza careers that won't require much experience to get you started in the food service industry.  There are jobs as Restaurant Associates and Delivery Drivers, although you will need a valid license for that job.  There are also managerial positions for which you will need previous leadership experience.
There are fewer Donatos Pizza jobs in the corporate sector but you can still send in applications for some positions.  You will generally need to have a relevant college degree and experience to be able to apply for these jobs.  The typical positions will be in the departments of Administration, Accounting and Finance, Sales and Marketing, Legal and Customer Service amongst others.
How old do you have to be to work at Donatos Pizza?  You only need to be 16 years old or over to apply for jobs at Donatos Pizza.
There are many benefits to working with Donatos Pizza jobs.  For eligible employees you will find that there are healthcare options including medical, dental and vision insurance as well as 401(k) retirement plans.  For all employees there will be perks including a generous discount on the food and paid training options.
The restaurants are open daily from 11am and then close at 12am Sunday to Thursday and 1.30am on Fridays and Saturdays.
Job Descriptions & Salaries
Restaurant Associate – The job description of a Restaurant Associate requires people who are used to working on their feet in a busy environment.  Restaurant Associates will be expected to serve customers and so good communication skills are extremely important.  You'll need to be able to talk easily with new people and make recommendations.  The pay is around $8-9/hour.
Delivery Driver – For this position you will need to have a valid driving license and a vehicle that is in a good condition with valid insurance.  A big advantage when applying is to have a good knowledge of the local area.  You will still need to have good customer service skills.  The hourly is rate is $7-8.
Assistant Manager – In this role you will start to become prepared for the General Manager position.  You will need to help the manager in ensuring that the restaurant is running smoothly.  Your responsibilities will include supervising staff and handling customer complaints and making sure they are satisfied.  The expected salary is around $33k/year.
General Manager – The restaurants sometimes run manager-in-training programs that will prepare you fully for what will be expected of you in running a busy restaurant, but there are also positions for experience professionals.  Managers are responsible for staff hiring and training as well as various administrative duties. The expected salary is $40k/year.
Donatos Pizza Interview Questions
It's important to be prepared for your interview, so practice some interview questions after you've submitted your Donatos Pizza application.
Why do you want to work here?  You will generally be asked this in any interview so always be ready for it.  Make sure you've done some research on the company so that you can be specific in your answer.
Tell me about yourself.  Make sure you keep your answer relevant to the skills that you will need for the job.  Check the job description first and relate your experience to the specifications on it.
How do you cope in a busy environment?  Working in this type of restaurant you will often need to serve multiple customers at once.  Tell the interviewer about other busy situations you have worked in successfully.
What is your favorite pizza topping?  They'll expect their employees to have a love for pizza so don't let them down.  Pick your favorite topping but also give them a good reason for it so they can see your enthusiasm.
How would you handle an angry customer?  Unfortunately you may have to deal with this from time to time.  If you have previous experience in the customer service industry then give an example of a similar time.
Advice For Application Process
You can search for Donatos Pizza jobs online and find the careers section of their website.  There you can see which of their locations are hiring and submit an online application by filling in the application form.  They list openings for hourly, management and franchise support center roles on their website.
Different franchises may have different hiring practices so if you don't want to apply online you can make a direct application to your local restaurant by heading down there in person with your resume and requesting a free application form for employment from the manager.  There isn't an option to download a printable application for Donatos Pizza.
After you've submitted your Donatos Pizza job application online you may be invited to more than one interview.  Most interviews will be face-to-face with either a General or District Manager.  Interviews for entry-level positions will often be fairly brief but you should still always be prepared and bring a copy of your resume with you.
It's important to turn up smartly dressed even if you're applying for an entry-level position, although a full business suit usually won't be necessary.  Your ability to communicate well will be one of the most important points.  Try to relax and show off your natural personality because the right attitude can go a long way.
Also See:
Ben E. Keith: For career opportunities, fill out the Ben E. Keith online application.
Dave And Buster's: Use the Dave And Buster's job application to apply here.
Hungry Howie's: See our resource page for more information on Hungry Howie's careers.
Tilted Kilt: Tilted Kilt offers opportunities for both, beginners and experienced roles.
Little Caesars: See this page for jobs at Little Caesars.
Company Links
http://www.donatos.com/careers
http://www.donatos.com/company