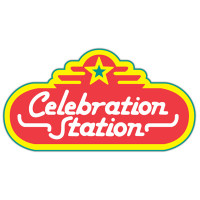 Celebration Station company provides recreational and amusement services. It includes activities such as Go-Karts, Bumper Boats, Batting Cages, Miniature Golf and Playland where one can ride the Rio Grande Train, take on the Miner Mike roller coaster, or try Rock Climbing.
It was founded in 1992. One of the best entertainment destinations in America offers its services at several locations, including Baton Rouge (LA), Clearwater (FL), Greensboro (NC), Mesquite (TX), and Oklahoma City (OK).
Known as America's location for family, food and fun; Celebration Station parks are great for family gatherings, school groups, youth socializing and many other group functions. Having both indoor and outdoor activities, there is something for everyone in the group.
Celebration Station employs up to 50 employee, who are offered with paid vacation, free health/dental care, flexible hours and a free meal each day from the kitchen. The company offers performance rewards, and there is plenty of room to advance in the company. If you are interested into becoming a member of the company, you can always apply for a job at Celebration Station.
How old do you have to be to work in Celebration Station company?
The minimum age to work in the company is 14. You can also choose in the application form whether you want a full-time or part-time job. However, in order to be a part of the Celebration Station team, you have to be a U.S. citizen. If you would like to work in a friendly and positive atmosphere with an excellent management, then this is a place to choose.
Company Links
https://www.indeed.com/cmp/Celebration-Station