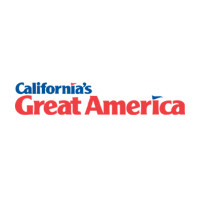 As one of four theme parks in the California bay area, California's Great America has a unique draw because it has a water park within the theme park itself.  The theme park is also located next to Levi's Stadium, so unfortunately, whenever there is a 49ers game, the park must close for parking reasons.  Links to apply for jobs at California's Great America are at the bottom of the page.
California's Great America was opened in 1976 under the name Marriott's Great America by the Marriott Corporation.  In 1985, the park was renamed to Great America and sold to the city that it's located in, Santa Clara.  However, in 1989 the city sold the park to Kings Entertainment Company.  In 1992, Paramount bought Kings Entertainment and held onto it until 2006, when Viacom and CBS separated, CBS taking Paramount Parks. CBS quickly sold off the parks, and California's Great America went to Cedar Fair Entertainment, who gave the park its current name.
Currently, the park has a total of fifty-eight rides; eight of those rides are roller coasters, and three are water rides.  Their water park is called Boomerang Bay, and has attractions for all ages and admission is included with the cost of the park.  California's Great America has several park areas, Planet Snoopy, Orleans Place, County Fair, Celebration Plaza, All American Corners, and Action zone, all with their own specially-themed rides. As you fill out an application for California's Great America jobs online, be aware that you could work in any of these areas.
California's Great America values the minds of young children being opened to the world.  As such, they have CGA Cares, which supports local community programs that meets their values of compassion and education.  All the organizations that the charity donates to, must be measurable in some positive manner.
California's Great America Careers
There are several California's Great America jobs open, however, they are all at the local level in Santa Clara, California.  There are full time positions, where you will be working all year, behind the scenes to maintain all the park rides, games, grounds, and food.  You're to make sure that everything works well year round.
As it is an amusement, park, there are seasons with high customer volume, so they need seasonal staff to work.  Besides needing extra park workers, there are several seasonal jobs for entertainers.  If you're interested in becoming an entertainer, you must put in a California's Great America application before attending your audition.
How old do you have to be to work at California's Great America? You must be at least sixteen years old to apply for several jobs.  However, some jobs require you to be over the age of eighteen, so read the requirements carefully.  Other jobs require you to also hold certain certifications or degrees.
Park hours are highly dependent on the season.  From early November through late March, California's Great America is closed.  However, it isn't until mid-May that the park is open every day on a weekly basis (excluding private events). There are special events with various hours, usually having to do with holidays.  The water park attached to the California's Great America follows the same hours as the park, but on a reduced schedule, only open from May until September.
California's Great America Job Descriptions
Ride Mechanic – By maintaining rides, you ensure the safety of all customers that come to the park for a good time.  If there are any problems, you'll inform your supervisor and keep great safety records in case there is any issue. Compensation is above minimum wage.
Landscape and Grounds Foreperson – You will supervise seasonal staff and ensure the cleanliness of the entire park.  Doing the landscaping design, preparation, and installation are all part of your job as well as setting up for special events. Compensation is above minimum wage.
Ride Electrician – Unlike the Ride Mechanic, you will not be working with the physical parts of the rides, just the electrical.  You have to understand how the rides work, so studying the blueprints and technical documents are extremely important for regular maintenance. Compensation is above minimum wage.
Manager, Merchandise, and Games – Supervising seasonal staff while they do their work at retail and various games locations is a key part of this job.  Making sure that guests are very satisfied is a major part of this job, as well as making sure that your staff members have a safe and pleasant work environment. Compensation is above minimum wage.
California's Great America Interview Questions
Here are some questions you may be asked during the interview process:
Why do you want to work at California's Great America? This is an extremely common interview question, so make sure to be prepared for it.  Talk about what drew you to the company, whether it was the company culture or benefits and why it's your first choice.
What experience do you have? If you're going for a seasonal position and you do not have any experience, be honest.  This company is known for hiring high school students, instead, talk about what you can offer California's Great America.
Where do you see yourself in a few years? This question is more common for permanent workers.  Be honest and realistic with your career expectations.  Make sure to let your interviewer know that you're willing to take on extra responsibilities and challenges to move up in the company.
How would you deal with an irate customer? This may be posed to you in the way of a hypothetical situation. Make sure to be straightforward and explain exactly what you would do and why.
If you're applying for a seasonal position and you weren't specific in what job you were applying for, you may be asked: Where in the park would you feel most comfortable working?  Be honest, they want to make sure that you're placed comfortably and are qualified for the job that you want.
Advice for Application Process
How to apply for California's Great America online: go to the jobs page and select what California's Great America application you would like to fill out.  For a seasonal or entertainment job, click on the top link and make a profile. If you're applying for a full time position, make sure to go the page with all the descriptions and read them carefully.  Then submit an email with your resume and a cover letter attached to the address listed above.  There is no printable application for California's Great America.
Before attending your interview, make sure to research the company and the industry.  Have a list of questions to bring with you, several of your questions will probably be answered during the course of the interview.  This may seem like a lot for an entry-level position, but it will place you above other candidates.
Have a positive and respectful attitude when you attend your interview, it will give your interviewer a positive impression.  If you're applying for a seasonal position, dress nicely, at least business casual.  For a permanent position, wear a suit at the very least.
Make sure to be gratuitous for the opportunity to attend an interview. Ask about the best way to check on your hiring status after your interview.  Most new seasonal applicants will have to wait until after their interview to learn if they got the job, as will everyone who applied for California's Great America careers, in order for the company to screen all applicants before making a final decision.
Also See:
Six Flags: See our resource page for more information on Six Flags careers.
Legoland: Use the Legoland job application to apply here.
Sugarhouse Casino: See our resource page for more information on Sugarhouse Casino careers.
Busch Gardens: Checkout the application page for work at Busch Gardens.
MGM Grand Las Vegas: For career opportunities, fill out the MGM Grand Las Vegas online application.
https://www.youtube.com/watch?v=jUwJnJJaxjA
Company Links
https://jobs.cedarfair.com/californiasgreatamerica/index.cfm?et_id=1
https://www.cagreatamerica.com/jobs