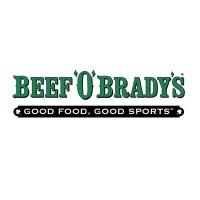 Beef 'O' Brady's has the concept of family friendly restaurant. They gather together families by serving them delicious foods and by giving them the chance to play sports together.
Jim Mellody together with his wife founded the company in the year 1985 in Brandon, Florida. Because of Jim's love of sports, he even filled their restaurant with Televisions and satellite dishes so people can enjoy the different sporting events.
The company's fast growing business led them to expand throughout United States. The company has over 200 locations and are still optimistic in expanding in the coming years.
Employees working at Beef 'O' Brady's receive benefits such as Health and Dental benefits, Occupation Accident Insurance, Bonuses, Vacation Days, Food Discounts, and Paid Time Off.
People like working in this company because the management is very understanding and they treat everyone as part of the family. Also, the company has a very pleasing and fun environment.
How old do you have to be to work at Beef 'O' Brady's?
For those who are seeking for a job and would like to work at the company, they must at least have the minimum age requirement of 18 years old.
Beef 'O' Brady's Careers
Great opportunities come to those who are hard working. The company offer jobs that do not need to have a background and special or formal training. Some career opportunities are listed below with their job descriptions.
Host: A Host is responsible for greeting and assisting the customers from the moment they arrive and until they leave the restaurant. He provides the menus and even prepares pick-up orders. Since he is the first one to interact with the customers, he must be friendly and polite.
Busser: A Busser is responsible in keeping the dining area clean. He clears and resets tables and even takes the dishes to the kitchen. He also fills and refills the customer's drinks and helps the servers in serving the food to the customers.
Bartender: A Bartender is responsible in preparing beverages (alcoholic or non-alcoholic). He is responsible in knowing and mixing drink recipes quickly and accurately. He can as well interact with the customers by taking their orders and by serving them with snacks.
Line Cook: A Line Cook is someone who is behind the food that comes out from the kitchen. He works with the head chef in preparing the food.  Usually, he works at certain stations (which are assigned to them) like grill or stove, and sets and stocks stations with all of the needed supplies.
Prep Cook: A Prep Cook is responsible in preparing the needed ingredients. He washes, chops, and cuts vegetables and even grinds and weighs meats which are later cooked by the head chef. He also stores the ingredients and maintains the kitchen in order.
Dishwasher: A Dishwasher is someone who is responsible in cleaning the dishes, equipment, and utensils. He keeps the kitchen areas clean and in order. He also helps in preparing the dining areas and in restocking the cooking stations with the needed supplies.
Kitchen Manager: A Kitchen Manager is someone who is responsible in maintaining the overall operations of the restaurant. He even hires team members and makes sure that they are trained properly when it comes to food preparation. He also orders supplies that are needed in the restaurant.
Restaurant Assistant Manager: A Restaurant Assistant Manager is someone who is responsible in monitoring the employees' performance. He sees to it that these employees are doing their assigned work properly. He even makes sure that the planned schedule of activities was met. An Assistant Manager is expected to act appropriately since he stands as a team leader.
Restaurant Manager: A Restaurant Manager is responsible in running the restaurant's daily activities. He makes sure that the restaurant is operating efficiently and that the service standards toward the customers were met. He also hires and trains employees and sees to it that they perform their tasks properly.
Server: A Server is someone who is responsible in taking orders from the customers. He also answers questions about the food menu and at the same time serves food and drinks. He also removes used dinnerware and even helps in cleaning and resetting the tables.
Beef 'O' Brady's Application
For those who are looking for a job and wish to work at Beef 'O' Brady's, they can visit and check out the company's official site or job search sites. They can also check if there are still vacant slots.
The company accepts online application. They also accept those who submit their forms in person. Applicants must choose first their desired location before they can submit their application forms. Applicants are also expected to follow up on their application status.
Since application forms will serve as the means on how the company will be contacting and updating the applicants, it must be kept neat, clear and easy to understand.
A resume is important for it showcases the applicant's background. It must reflect the applicant's past trainings and work experiences. These experiences should be listed in a chronological format.
Interview phase in relevant. Always be on time and dress properly. Do a simple research and prepare all of the necessary documents before going to the interview. Do not forget to put a smile on your face.
Things To Know About Beef 'O' Brady's
The company has a family focused culture. They gather families together in order to have fun and enjoy the meals that they serve. They treat their employees equally and even consider them as part of their family.
The company has been reported to have won the 2015 operational excellence award because of their sales, cleanliness and overall operations. They truly deserve this kind of award.
Beef 'O' Brady's is very famous for being a family friendly sports bar. They offer burgers, sandwiches, wings, and different beverages that boost everyone's mood.
The company is active in providing social efforts. They gave scholarship to local students and even have cancer fundraising program in memory of a resident named Serstin Lango who died from breast cancer. 
Application Links
Company: https://www.beefobradys.com/
Careers: https://www.beefobradys.com/jobs.aspx
Application: https://beefobradys.traitset.com/locationFinder